The Ford Escape Hybrid occupies a special place in green-car history.
It was the first hybrid built in the U.S., the first one from a U.S. carmaker, and the first hybrid crossover utility. That makes it one of our five best used green cars.
A pet project of then-CEO Bill Ford, the Escape Hybrid was an immediate hit and remained popular through its eight-year model run.
While Ford likely never made money selling it, the hybrid Escape won the company green credit as it phased out the Excursion, the largest sport-utility vehicle ever sold for passenger use.
Our Used Escape Hybrid comments also apply to the 2006-2010 Mercury Mariner Hybrid and the rare 2007-2009 Mazda Tribute Hybrid (of which only 661 were built).
Restyled for 2008
There are essentially two versions of the Escape Hybrid: the 2005-2007 model, and the restyled 2008-2012 model.
2005 Ford Escape Hybrid
The original version uses a 133-horsepower, 2.3-liter four-cylinder engine mated to a hybrid system that uses a pair of motor-generators, similar to the setup used by Toyota in its Hybrid Synergy Drive system.
On the road, engine overrun and regenerative braking is used to recharge a nickel-metal-hydride battery pack under the rear deck, which can then power one motor that propels the car solely on electric power at low speeds, and assists the engine by providing additional torque under higher load.
The 2005-2007 Escape Hybrid delivered acceleration roughly equivalent to that of the conventional Escape fitted with a V-6 engine. But its fuel economy, at 29 mpg combined (30 mpg city, 28 mpg highway) for the front-wheel drive version was 38 percent better than the combined 21 mpg of the automatic 2.3-liter four-cylinder model.
For 2008, the whole Escape line was restyled.
New powertrain in 2009
In 2009, all Escape powertrains were updated. The Hybrid gained a 2.5-liter four that slightly increased its EPA ratings to 32 mpg combined (34 mpg city, 31 mpg highway for the front-wheel drive version, and 28 mpg combined (29 city, 27 highway) for the all-wheel drive version. 
2009 Ford Escape Hybrid
It also gained revisions to its braking system to give a more consistent pedal feel when switching between regenerative and friction braking.
For 2010, the Escape Hybrid was finally fitted with an electric air-conditioning compressor similar to that used on the 2010 Ford Fusion Hybrid. This allowed the engine to switch off when the car was stopped even if the air conditioner was in use--a great benefit to drivers in hot climates.
Escape Hybrids throughout the model run could be ordered with all-wheel drive as an extra-cost option. Unlike all-wheel drive Toyota hybrids, which use an electric motor only to power the rear wheels, the Ford hybrid all-wheel drive system powers all four wheels mechanically.
Ford says just under half of all Escape Hybrids over its model run were fitted with all-wheel drive.
Used as taxis
The earliest Escape Hybrids built in late 2004 will just now be coming to the end of the 8-year/100,000-mile warranty on their battery pack and hybrid system.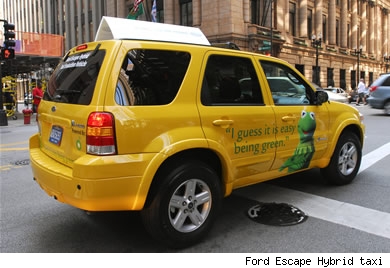 Ford Escape Hybrid Taxi
Given the number of Escape Hybrids used as taxicabs in cities like New York, however--and the long mileage that hybrid taxis of all makes have logged without any reliability issues--the nickel-metal-hydride battery pack seems unlikely to pose a significant risk to resale value.
In fact, Escape Hybrids can be hard to find on the used-car market at any price, and the 12,300 Mercury Mariner Hybrids are far rarer yet.
Ford sold only 11,000 to 25,000 hybrid crossovers (of all three brands combined) every year from 2005 through 2011--against total Escape sales of 145,000 to 254,000 every year since 2001.
There will be no hybrid version of the new 2013 Ford Escape, which instead is being fitted with two different EcoBoost gasoline engines to produce gas mileage figures that are ... well, almost as good (but not quite).
Instead, Ford will offer a 2013 Ford C-Max Hybrid five-door hatchback (along with a low-volume Energi plug-in hybrid version).
But it will not offer all-wheel drive, so if you really want an all-wheel drive hybrid crossover--buy one now while they're still on your Ford dealer's lot.
+++++++++++