As our sister site GreenCarReports covered last week, the online pre-ordering process is now live for the 2012 Mitsubishi 'i', with the car due to hit the roads of California in January 2012. 
The 2012 Mitsubishi 'i' is now the third all-electric car from a major automaker to open up the ordering process, joining the 2011 Nissan Leaf and 2011 Chevrolet Volt in the race to become the dominant plug-in electric vehicle. 
But just which car should you chose? To help you make the buying decision here's our basic rundown of each car's strengths and weaknesses. 
Price
Let's be honest here: price is normally the first thing that most consumers consider when looking at a new car, followed closely by everything else.  For ease of use we'll quote the Manufacturer's Standard Retail Price (MSRP) before any dealer incentives, tax credits or rebates are applied. 
Weighing in at $41,000 the base level 2011 Chevrolet Volt is the most expensive of the three cars, but does come with the most versatility when it comes to long-distance travel thanks to an on-board range-extending gasoline engine. 
2011 Chevrolet Volt
Second comes the 2011 Nissan Leaf. 100% electric unlike the Volt, the base model SV retails for an MSRP of $32,750. 
But if you want the ability to take advantage of the Leaf's ultimate party trick of recharging to 80% full in around 20 minutes you'll need to buy the SL model, which retails at $33,720 plus an additional $700 for the rapid charger port. 
This leaves the 2012 Mitsubishi 'i' well ahead when it comes to price, winning with a base level MSRP of just $27,990. But just like the Leaf, ordering a model with rapid DC charging capability lifts the price to $30,790
All three cars are currently eligible for the $7,500 federal tax credit for plug-in electric vehicles, and some states have additional credits available to assist in everything from purchase costs to installing charging points in your garage.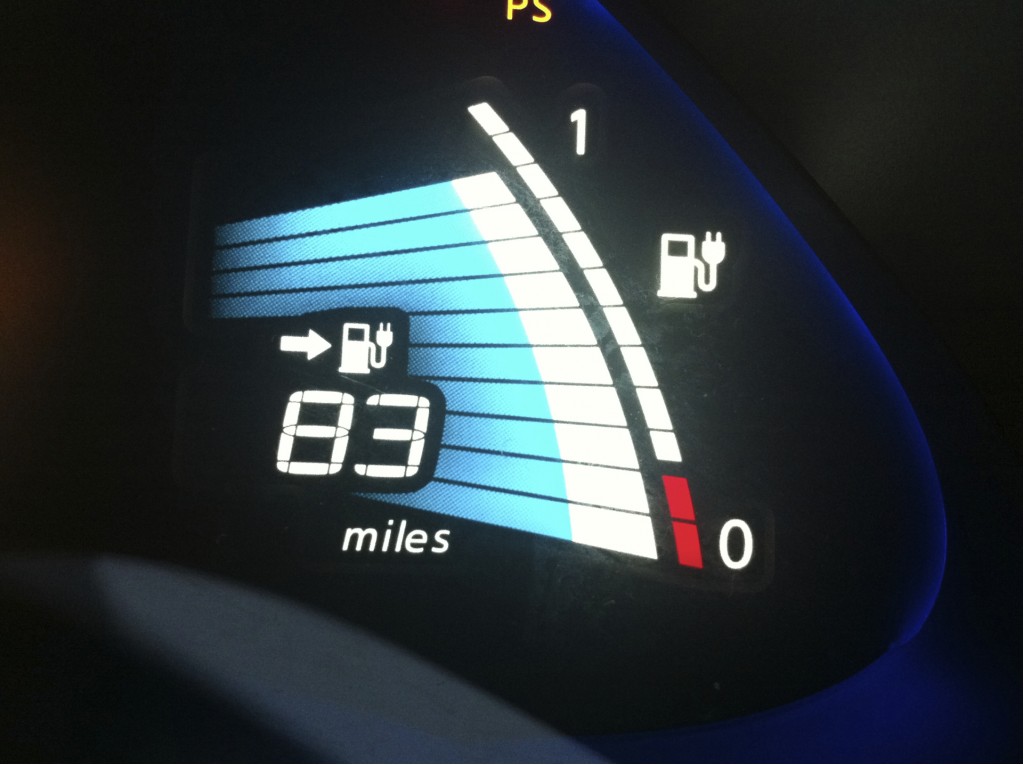 2011 Nissan Leaf State of Charge and Miles remaining
Range
When it comes to purely electric range, the 2011 Nissan Leaf wins hands down with an EPA approved range of 73 miles, although Mitsubishi says it is aiming for a range for its 2012 'i' somewhere around 85 miles per charge.  
Importantly however, the Mitsubishi 'i' has yet to undergo official EPA testing on range claims, calling into question how realistic its claimed figures are from a 16 kilowatt-hour battery pack. 
The Volt's all-electric range, an EPA approved 35 miles is by far the shortest of the three vehicles, but when combined with its gasoline range-extending engine, the Volt can travel up to 379 miles on a tank of gasoline and a full charge. 
Versatility
When it comes to driving flexibility, the Volt's dual-fuel drivetrain wins. But when it comes to everyday use its large T-Shaped battery pack gets in the way of a middle seat in the rear, leaving it with just four seats instead of five. 
With flat-folding seats and a large, flat load area, the Volt can take a surprisingly large amount of luggage when required. However, with a sloped kammback design to its hind quarters, the Volt restricts headroom and can prove an uncomfortable ride for any rear-seat passengers over five foot ten. 
The Leaf offers the flexibility of a 73 mile range and can be driven much further in a day if suitable rapid charging points exist en-route.  However, it is best suited to life in larger metropolitan areas where charging infrastructure exists. 
2011 Nissan Leaf, Nashville, October 2010
When it comes to interior flexibility the Leaf's five seat configuration provides enough seats , legroom and headroom for most family trips. Folding seats also allow for increased load carrying capability, but the load bay is not entirely flat, with a deep lower section at the very rear of the load bay. This can be overcome by purchasing an optional load-bay organizer, giving the Leaf a flat load bay from hatch to the rear of the front seats when the rear 60/40 split seats are folded. 
Like the Leaf, the 2012 Mitsubishi 'i' features an option for rapid charging, meaning longer distance trips are possible without requiring long recharging stops. That said, the 'i' is more at home in the urban jungle than the freeway. 
When it comes to flexibility, the smaller size of the 'i' looses it some versatility in the luggage and load carrying stakes. However, its four-seat design and bubble shape mean that all but the tallest of passengers have plenty of headroom and legroom. 
Cargo space is a different matter, with the load bay really only big enough for a few bags of shopping.  Fold down the rear seats, and a completely flat load bay presents itself that can carry an astonishingly large amount of cargo thanks to a high headline. 
Options, standard fit?
Volt Interior Door Panel
While the 2012 Mitsubishi 'i' comes with the most extensive options list of all three cars its base level model is the most basic, offering consumers a more austere interior without fancy satellite navigation, steering-wheel audio controls or handsfree. 
That said, all three cars are suitably appointed, with air conditioning, electric windows and tire monitoring systems as standard. Each car also comes with AM/FM/CD sound systems capable of playing mp3s and WMA files. But those wanting to plug in an iPod or USB stick into the Mitsubishi 'i' will need to pay extra for the option of a compatible sound system. 
Cold weather packages are optional on the 2012 Mitsubishi ''i' and soon on the 2011 Nissan Leaf. These add more sophisticated thermal battery management over the base versions and also the added comfort of heated front seats, found on the 2011 Chevrolet Volt as a standard option. 
One big item missing on both the 2011 Nissan Leaf and 2012 Mitsubishi 'i' is the option of Leather seating. If you want cow under your bottom, the Volt is the only one of the three cars offering it as an option. 
2011 Mitsubishi i-Miev EuroNCAP Test
Safety
Both the 2011 Nissan Leaf and 2011 Chevrolet Volt were recently awarded the highest possible rating in the Insurance Institute for Highway Safety (IIHS) crash test ratings, both earning IIHS Top Safety Pick awards for their safety.
The 2012 Mitsubishi 'i' has yet to be rated, but if its smaller, lighter European sibling, the 2011 Mitsubishi i-Miev is anything to go by, the firm will have to work hard to recieve a similar accolade from the IIHS. 
Feeling
Comparing the three cars we find each has a very different feel. While the 2012 Mitsubishi i is the most basic in its interior design, the 2011 Chevrolet Volt feels the most conventional and business-like, with buttons a-plenty and  controls reaching down to the centre console in what has become the de-facto design style for nearly every luxury and midsize car on the market today. 
The 2011 Nissan Leaf takes design cues from the 2004-2009 Toyota Prius, giving the car a much cleaner and more high-tech feel than either of its rivals. However, its large touch-screen interface, minimal physical buttons, musical startup chime, novel gear selector and keyless control system may be a little too much for more conventionally-minded drivers to bear. 
Verdict
In preparing this guide we realized it really is impossible to compare the 2011 Nissan Leaf, 2012 Chevrolet Volt and 2012 Mitsubishi 'i' like for like, since each car is drastically different from the next. 
However, we have some basic conclusions that we hope will help you make the right choice for your next plug-in car.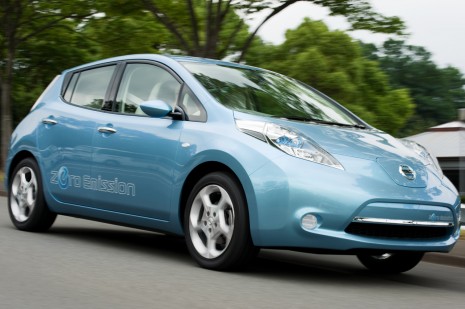 2011 Nissan Leaf
If you need the flexibility of a car which can do longer-distance trips but uses as little fuel as possible the 2011 Chevrolet Volt has to be the right choice for you. But if you need electric-only transport then either the 2011 Nissan Leaf or 2012 Mitsubishi 'i' could fit the bill perfectly.
Certainly, the 2012 Mitsubishi 'i' is the cheapest on paper, but with limited luggage space, one less seat than the 2011 Nissan Leaf and an as yet unknown EPA rating it may be just too early to decide which car to go for. 
Don't forget too that the 2012 Ford Focus will enter the market around the same time as the Mitsubishi 'i', giving consumers an even wider choice and no doubt forcing automakers to rethink both price and standard options. 
Like any car purchase, we'd advise you book a test-drive with your local dealer before putting any money down, and for more in-depth reviews, test drives and consumer advice for each car be sure to bookmark our ultimate guides to the 2011 Nissan Leaf, 2011 Chevrolet Volt and 2012 Mitsubishi 'i' in your browser.