As regular readers no doubt recall, we [heart] the 2010 Volkswagen Golf TDI. We think it'll be the big diesel winner in the U.S. market, and that's before we've even driven one. But Bengt Halvorson loved his drive in a European version of the 2010 Golf TDI.
Now, our colleague Marty Padgett has spent a day with the entire 2010 VW Golf range, including the turbodiesel hatchback Golf TDI, newly reintroduced to the U.S. market in the sixth-generation Golf. (Number five was technically a Rabbit, but who's counting?)
Impression: favorable
His impressions? Largely favorable. Let's break it down from his full review over at TheCarConnection.com.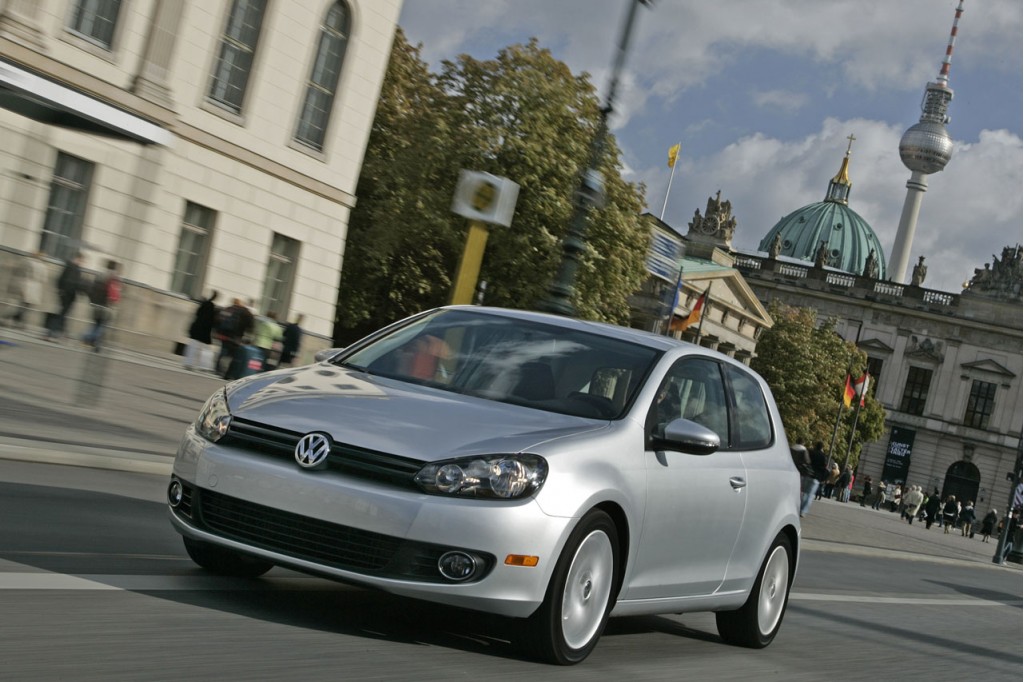 2010 Volkswagen Golf TDI
2010 Volkswagen Golf TDI
2010 Volkswagen Golf TDI
2010 Volkswagen Golf TDI
2010 Volkswagen Golf TDI
He gave the '10 Golf a  thumbs-up for the following reasons:
Solidly built
Cabin feels rich and upscale
Well-damped ride under most conditions
TDI clean diesel option available, again
Great visibility
But he wasn't so thrilled with:
Frumpy styling (we're not sure we agree with that one)
Fuel economy not great with gasoline engine
Less passenger and cargo room than expected
All in all, he rated the 2010 Volkswagen Golf line at 7.8 out of a possible 10 points.
Well-equipped TDI
The 2010 Golf TDI starts at $21,990 for the two-door hatchback (add another $600 for two more doors), but comes with both oval fog lamps and optional xenon headlamps.
The equipment spec on the TDI is notably higher than the base Golf, with standard leather-wrapped steering wheel, 'sport' suspension setup, 17-inch alloy wheels, premium touch-screen sound system, and several new electronic safety features.
Driving response: engaging
While he called the five-cylinder gasoline engine's response "flat and unexciting," Padgett found the TDI--with its clatter largely muted--to be more engaging. And he raved about the TDI's optional dual-clutch transmission, complete with paddle shifters (the other option is a six-speed five-speed manual gearbox).
And, he noted, the TDI delivers not only a 0-to-60-mph time of 8.6 seconds, but EPA mileage ratings of 30 mpg city / 42 mpg highway. And as we frequently note, Volkswagen's Jetta TDI--which uses the same 2.0-liter diesel--often returns far better real-world mileage than its EPA ratings indicate.
Golf TDI vs Civic Hybrid
The only compact competitor that beats the Golf TDI on fuel economy is the 2010 Honda Civic Hybrid, which is rated at 40 mpg city / 45 mpg highway, for a combined rating of 42 mpg.
It's a sedan, though, not a hatchback, and a Civic is a very different sort of vehicle to the Teutonic Golf (though equally enjoyable). More than that, the difference in mileage saves you less than a gallon every 100 miles, and the Civic Hybrid's base price is $23,800.
Upscale, with benefits
Padgett's bottom line on the 2010 Golf? "The 2010 Volkswagen Golf / TDI feels more upscale than its competitors, and the diesel's exceptional fuel economy is an unexpected bonus in the class."
We couldn't agree more.