2010 Toyota Prius production line, Tsutsumi factory, courtesy of Just-Auto.com
Last summer, with $4/gallon gasoline, you couldn't find a Toyota Prius on dealer lots anywhere. Early this year, in the depths of the economic doldrums, US dealers could hardly give away the high-mileage hybrids.
Now, once again, the Tsutsumi factory in Japan is cranking out hybrids as fast as it can--a situation other automakers can only look at and drool over. In Japan, a buyer must now wait months to take delivery of a 2010 Toyota Prius that's already paid for.
Home market sales soar
Why? Because the new 2010 Prius has soared to the top of the sales charts in Japan, taking its first-ever # 1 ranking in May after its archrival, the 2010 Honda Insight, took the top spot in April.
In May, Toyota sold 110,000 Priuses in Japan, a staggering number. The demand was greatly helped by a Japanese government program that encouraged sales of more fuel-efficient vehicles, similar to our own recently-passed "Cash for Clunkers" bill.
Then in June, Japan passed the US to become the world's biggest market for hybrids.  That distinction may not last--the Japanese market logs just a fraction of total US sales--but readers have asked us:  Will the US face shortages of the 2010 Toyota Prius too?
Although US hybrid sales rose 9 percent in June--against a total sales decline of 28 percent--the answer is: Probably not.
Toyota is keenly aware of the need to keep the 2010 Prius available in the US--historically the largest market for Toyota's leading hybrid--and it has supported the car with a blitz of innovative TV ads.
Despite a meager 4-day supply of 2010 Toyota Prius models on dealer lots, no reports of Prius shortages have arisen. In fact, dealers have e-mailed existing Prius owners offering "immediate delivery" on a variety of different 2010 Prius equipment levels.
What about Mississippi?
During the first year of the 2010 Toyota Prius, the company hopes to sell 400,000 copies globally, of which 180,000 are projected for the US. That's more Priuses than it's ever sold in a single year here.
With the 2010 Prius only in dealers for six to eight weeks now, it's too early to tell if the company can meet that goal.
If Prius supplies remain tight globally after the current early surge of enthusiasm, watch what Toyota announces about plans for its site in Blue Springs, Mississippi.
That factory was originally intended for large trucks, until the company announced at the height of 2008's gasoline-price rise that it would be used to build the Toyota Prius instead. As the economy plummeted, Toyota suspended all work on the plant last December.
With Prius production lines in Japan running flat out, industry rumors say Toyota will soon decide whether to resume work on Blue Springs. Complicating the question: What to do with its plant in Fremont, California, a joint venture with General Motors that GM walked away from after exiting bankruptcy last week.
Stay tuned to AllAboutPrius.com for more news on sales and supplies of the 2010 Toyota Prius.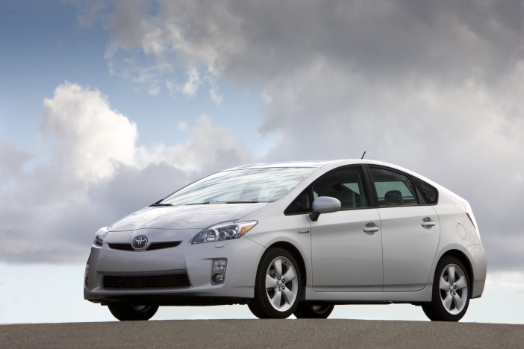 2010 Toyota Prius
[HybridCars.com; Edmunds.com; The New York Times; Kicking Tires; Just-Auto.com, requires subscription]