Toyota Prius at US Capitol, by Flickr user Izik
The number of Toyota Prius registrations, along with those of other hybrids, have soared recently around Washington, DC.
But it's not necessarily what you may think. That is, there's no data to suggest it's due to (presumably hybrid-loving) Democrats moving in to replace departing (presumably not-quite-so-hybrid-loving) Republicans.
But we wouldn't be all that surprised. After all, the Prius often replaces a luxury vehicle, according to Kelley Blue Book analyst Jack Nerad. And with President Barack Obama newly out of his Ford Escape Hybrid (he now uses a slightly less economical car), perhaps hybrids will come to be seen as signs of a sober, sensible, post-recession attitude?
The story, courtesy of local newspaper website DCexaminer.com, covers data for calendar year 2008. The preliminary data, gathered by the Metropolitan Washington Council of Governments, doesn't yet include information from the District of Columbia.
But the highest rate of hybrid ownership, in Northern Virginia, corresponds to a local benefit of hybrid ownership. Virginia lets certain hybrid drivers (with special Virginia license plates) use its high-occupancy vehicle lanes even if they are driving alone.
It's one of a number of perks offered in various locales to drivers of certain types of hybrids. Another, free parking in the city of Los Angeles, ended on March 1 for budgetary reasons.
Second after Virginia came Maryland, whose hybrid registrations actually quintupled since 2005. Still, hybrids represent only 2 percent of total vehicles in either area. That's higher than their overall share of cars on US roads, and a hair lower than their share of US new-car sales.
Data from industry analyst R.L. Polk cites the DC metropolitan area as the 10th-most-popular for hybrids in the country. It's one of just two in the top 10 that lies outside the West Coast; the other is Charlottesville, Virginia.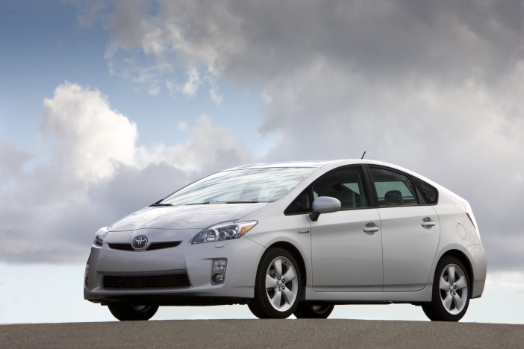 2010 Toyota Prius
[SOURCE: DCexaminer.com; PHOTO by Flickr user Izik]