What is the most common trade-in for a Tesla Model 3?
Is Toyota about to ramp up its commitment to EVs?
This is our look back at the Week In Reverse—right here at Green Car Reports—for the week ending May 5, 2023.
In a review of the 2023 Toyota Prius, with some closer scrutiny paid in daily driving situations, we found the latest version of this hybrid icon to offer up jaw-dropping good looks and more driving inspiration—although the interface, ride comfort, and quiet altogether come out a little lacking. That, and you'll be fielding a lot of questions about why this Prius isn't electric. 
2023 Honda Accord
The 2023 Honda Accord Hybrid has earned a top safety distinction. With the entire Accord lineup, it's been named a Top Safety Pick+ from the IIHS, thanks to improved side-impact protection in the new model and good performance of its front crash-prevention system night and day. It joins the Camry Hybrid, although the Sonata Hybrid doesn't quite make the agency's top tier. 
Fisker plans to bring swappable batteries to its Ocean EV—for fleets at first—with tech from the U.S. startup Ample, by 2024. Ample has focused earlier efforts on the Nissan Leaf, so the Ocean and its liquid cooling may be a different test case. 
2024 Ford Mustang Mach-E preview
Ford has revealed range and pricing for revamped Standard Range versions of its 2023 Ford Mustang Mach-E electric car with lithium iron phosphate (LFP) batteries, and it looks good for value. Prices drop; there's a power boost; charging is quicker; and range numbers are expected to be a bit higher. 
Redesigned 2025 Mini Cooper Electric models will add more range, interior space, and be split into economical Cooper E and sporty Cooper SE variants. Although the lineup is due next year, Mini hasn't yet confirmed U.S. availability for what currently amounts to one of the most affordable EVs available to Americans. 
2025 Mini Cooper prototype
Ford CEO Jim Farley, on a quarterly financial call, said that the company aims to capture more EV newbies with an upcoming three-row electric SUV—the same way it did for pickups with the F-150 Lightning.  
Daimler Trucks has announced a $650 million US charging and hydrogen network for big rigs. The venture, called Greenlane, was started in 2022, but the announcement to "forge ahead" with it appears to be timed with the Senate's move last week to reverse tighter EPA heavy-duty truck pollution rules as California adopted its own tighter Advanced Clean Fleets rules.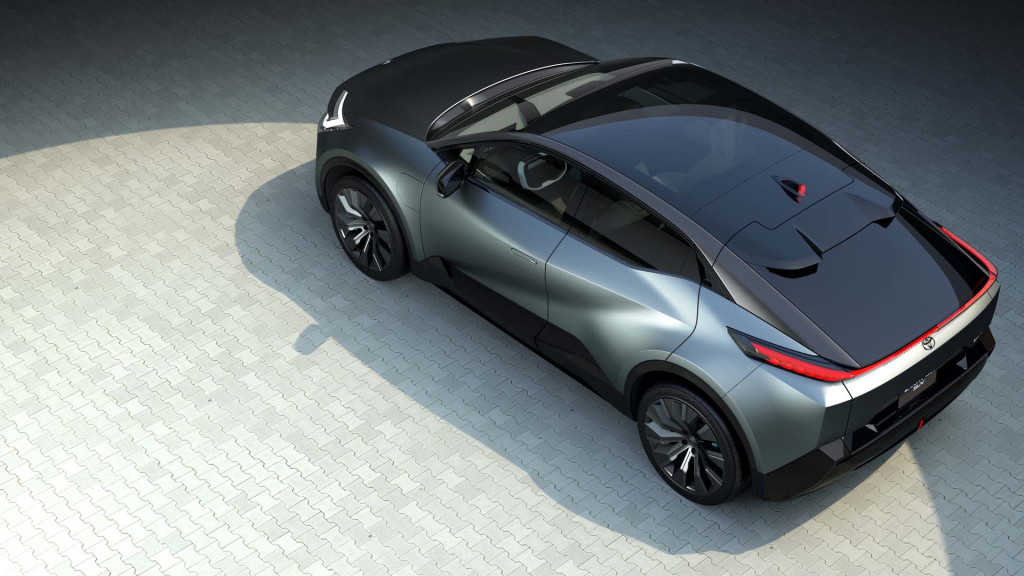 Toyota bZ Compact SUV Concept
The White House claims that Toyota is now "fully committed to electrifying its U.S. lineup, and suggested that the former "laggard" automaker might be pursuing an accelerated timeline for EV adoption. The company hasn't yet detailed or disclosed that, if true. 
Early in the week, Lordstown Motors warned of more financial difficulties. It reported that Foxconn may be seeking to back out of a funding deal that might keep the maker of the Endurance electric truck running—and that it might go bankrupt if this isn't resolved. By Friday, the likelihood of the company's continued operations appeared to be fading, based on some reports. 
Hyundai Mobis e-Corner
Clever e-Corner tech with in-wheel motors, demonstrated by Hyundai's technology supplier on real roads in the Ioniq 5, could alter both the packaging and the mobility of future electric vehicles. With steering, braking, and propulsion integrated into modules at each corner, EVs could perform a true sideways crab walk, pivot turns in small spaces, diagonal driving, and more.
Through July 31, Costco is offering a $2,500 discount on the 2023-2024 Volvo XC40 Recharge and C40 Recharge. For 2024 both models are due for a range boost up to a projected 297 miles in some versions, with new motors and a switch on single-motor versions to rear-wheel drive. 
2019 Tesla Model 3
According to data from the used-car retailer CarMax, the most common trade-ins for the Tesla Model 3 are the Honda Civic and Toyota Tacoma, and the most commonly traded-in model for the Nissan Leaf is the Toyota Prius. 
And not every step of EV adoption is going to be smooth progress. In its latest survey data, J.D. Power saw a higher portion of shoppers indicating they were "very unlikely" to consider an EV purchase in the next 12 months than ever before—indicating a growing portion of shoppers may be flat-out rejecting EVs. Although it's unclear what new factors contributed to that, price and charging were familiar issues.
_______________________________________