The hybrid mid-size sedans sold today by Chevrolet, Ford, Honda, Hyundai, Kia, and Toyota are all tuned to provide maximum fuel economy.
So what did it take to fashion a standard Ford Fusion Hybrid sedan into the 2018 Ford Police Responder Hybrid Sedan that Ford introduced yesterday?
The company's press release was coy with actual technical details, but we were able to buttonhole an engineer during the lunch event yesterday at which Ford unveiled the car officially.
DON'T MISS: Ford Fusion becomes first police pursuit-rated hybrid car
From the press materials, we knew that Ford had to recalibrate the hybrid control software to accommodate the unique duty cycles of law-enforcement use.
Ford said the Police Responder "automatically switches to maximum performance—with the engine and battery working at peak acceleration levels—when needed."
The company added that it can run in battery-only mode up to 60 mph, at least in some circumstances.
2018 Ford Police Responder Hybrid Sedan pursuit-rated police car
But pursuit certification by the Los Angeles Police Department and the Michigan State Police is a nontrivial accomplishment.
It certifies that a police vehicle is tough enough to handle car chases at various speeds, and has the ability to cope with such obstacles as curbs and crowded intersections.
We got a few more details from Mike Hahn, a member of the vehicle-engineering team that created the police Fusion, tested it, and got it ready for production. (Orders open this spring, with first deliveries this summer.)
READ THIS: LAPD Gets Tesla Model S, BMW i3 Electric Cars As Police Cruisers (Sep 2015)
He wouldn't share all the details, he said, "because we'd prefer our competitors not know everything" the company did.
That extended particularly to the "Pursuit Mode," something like a Sport Mode except that it's triggered automatically when various drivers inputs cause the car to sense it's being used for pursuit.
Hahn was reticent about what those inputs were, suggesting only that they included steering and acceleration data.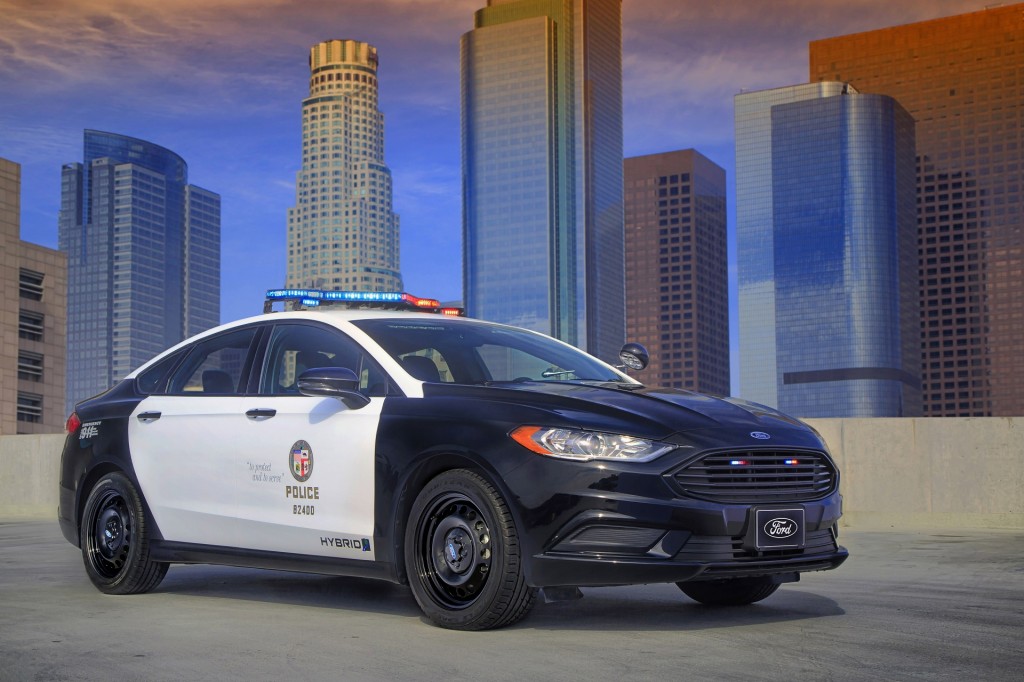 2018 Ford Police Responder Hybrid Sedan pursuit-rated police car
The effect, he said, was to provide maximum output from both the engine and the hybrid system's battery and electric motor.
That maximum output "will last as long as you're driving aggressively," he said, declining to provide any statistics.
For high-speed chase capabilities, though, note that Ford's hybrid police vehicle is called a "Police Responder" sedan—not a "Police Interceptor" sedan, the name of the larger and also pursuit-rated Ford Taurus-based police sedan Ford already sells.
2018 Ford Police Responder Hybrid Sedan pursuit-rated police car
That Taurus-based sedan has been sold alongside the Explorer-based "Police Interceptor Utility," which actually makes up the majority of its police sales these days.
Hahn noted discreetly that for circumstances in which a police client anticipates the possibility of sustained high-speed highway pursuit, the company might recommend the Police Interceptor instead.
Other modifications Hahn was willing to describe included an uprated cooling fan for the air-cooled lithium-ion battery pack, and a beefier oil cooler for the Atkinson Cycle 2.0-liter 4-cylinder engine.
CHECK OUT: Tesla pursuing police cruiser market with Model S: report
The suspension height is raised, there's a deflection shield to protect the underside of the engine from curbs or objects on the road, and the car is fitted with steel wheels and specially developed all-weather tires.
Inside the car, the drivers' seats are designed to accommodate officers with lots of items hanging off their belt, and all upholstery and materials are stronger, tougher, and easier to clean.
A removable plate on top of the dashboard allows individual departments to fit electronics gear or other accessories.
2018 Ford Police Responder Hybrid Sedan pursuit-rated police car
The console between the seats is replaced by a simple metal cover to provide more mounting points for computers, weapons, or other gear.
The bulk of the dashboard remains the same, with a few added warning lights and screens, down through the climate controls.
The shift selector is a rotary knob mounted below that at the bottom of the center stack, substituting for the old-school column shift in traditional police cars.
SURPRISED? LA police to buy 100 BMW i3 electric cars for department use
The 12-volt electrical system is upgraded for greater power draw from accessories as well.
Ford doesn't provide a mesh screen between front and rear seats, though: that's an aftermarket fitting.
_______________________________________