What do we know about the diesel-cheating settlement reached between Volkswagen and the EPA—and what's left to find out?
And, which company's consultants will now be driving black-and-white Toyota hybrids?

This is our look back at the Week In Reverse--right here at Green Car Reports--for the week ending on Friday, April 22, 2016.
This week, it was all about the Volkswagen diesel-emissions cheating scandal, and the "agreement in principle" reached between VW and the U.S. Environmental Protection Agency.
2015 Volkswagen Golf TDI SE
The two parties squeaked under the April 21 deadline for an agreement, which had been postponed from the original March 24 deadline by U.S. District Court Judge Charles Breyer.
On Thursday, we reported on the terms of the VW-EPA agreement when the news broke at 8 am Pacific time. (We updated that article several times as more info emerged.)
Then, Friday, we broke down what we know (and what we don't) about the VW agreement in a series of questions and answers for owners of Volkswagen and Audi diesels.
We know VW will buy back up to 482,000 cars with 2.0-liter TDI diesel engines, and separately, pay owners $5,000 for the deception.
But much more remains to be revealed, and the full details may not emerge until Breyer's next deadline, which he set at June 21.
2017 Honda Clarity Fuel Cell with American Honda's John Mendel, Apr 2016
Wednesday, Honda held a press briefing in Ohio that, regrettably, Green Car Reports was unable to attend. We were able to cover the news, though, which included two parts.
First, we got slightly more information on the upcoming Honda Clarity sedan, which will offer hydrogen fuel-cell, plug-in hybrid, and battery-electric versions.
Honda firmly declined to say anything detailed about the all-electric model, but it did say the plug-in hybrid would have an electric range of 40 miles or more.
Second, the company debuted the 2017 Honda Accord Hybrid, which returns with a new and even more efficient powertrain and a 48-mpg combined EPA rating after a year off the market.
The Accord Hybrid was the Green Car Reports 2014 Best Car To Buy, but was plagued by supply constraints for its two model years, to the frustration of many U.S. buyers.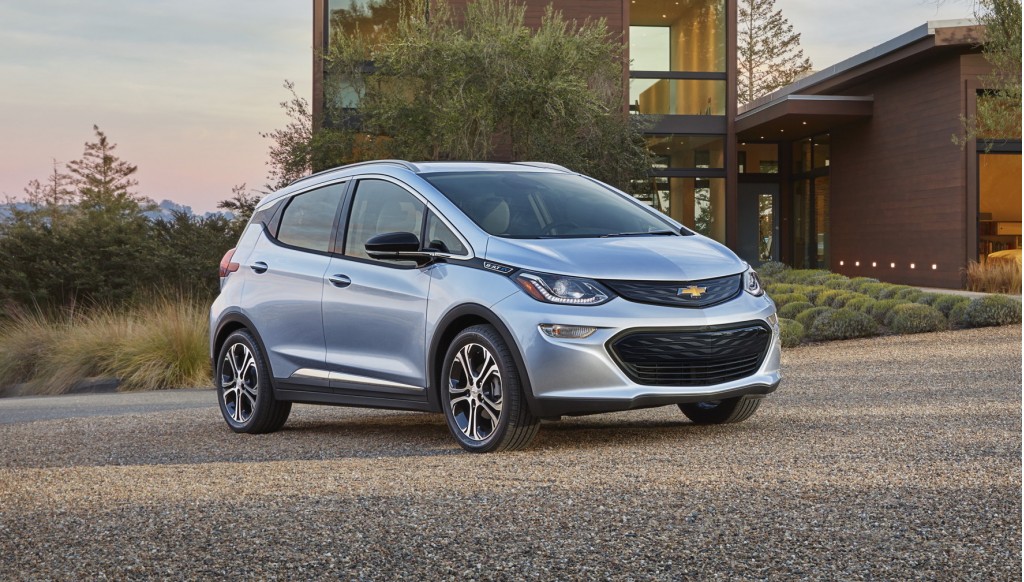 2017 Chevrolet Bolt EV
On Tuesday, we noted that former GM product czar Bob Lutz had called the 2017 Chevrolet Bolt EV a "compliance car"—and we analyzed whether that was a fair characterization.
Our readers have continued the debate, to the tune of 720 comments...and counting.
Monday, we kicked off the week with a video from the New York Auto Show of a panel discussion on the future of electric cars.
Featuring Salim Morsy of Bloomberg New Energy Finance, famed electric-car advocate Chelsea Sexton, and our own John Voelcker, the 28-minute covered a wide range of topics around consumer adoption, industry marketing, range anxiety, and of course hydrogen fuel-cell vehicles.
Over the weekend, we noted that Geek Squad has switched to Toyota Prius C hybrids from its distinctive fleet of Volkswagen Beetles.
Given cheap gas prices and the challenges to hybrid sales overall, we're betting their buyers got a really, really good deal on thousands of the subcompact hybrid hatchbacks.
Shell Concept Car
Finally, last year Shell hired famed race-car designer Gordon Murray to design an ultra-efficient small city car, dubbed Project M.
This week, the company revealed the resulting concept car, and we have all the photos and details.
We also have a question: Why on earth did Shell paint Murray's design to look like a clown car in a circus?
Those were our main stories this week; we'll see you again next week. Until then, this has been the Green Car Reports Week in Reverse update.
________________________________________________