The 2017 Chevrolet Bolt EV has received largely positive reviews for the production version unveiled last week at the Consumer Electronics Show in Las Vegas.
And as the first affordable 200-mile electric car, expected to go on sale before the end of this year, it will likely reset consumer expectations of what an electric car can be.
But having a long-range electric car is just one piece of the puzzle.
DON'T MISS: To Be Successful, Electric Cars Need Intercity Fast Charging: Opinion
Another is the need for a pervasive DC quick-charging network so that car can be used outside its home radius.
GM's commitment to advancing the rollout of a North American DC fast-charging network has been, until now, almost entirely opaque.
The company takes part in standards working groups for the technology specifics of the Combined Charging System (CCS) protocol it supports, along with all other U.S. and German carmakers.
GM executive panel, CES 2016: Pam Fletcher, Alan Batey, Alicia Boler-Davis, Mary Barra, Mark Reuss
And it has said a CCS quick-charging port will be an option on the 2017 Bolt EV.
Tesla's expanding network of Supercharger sites is a model of what's possible, and it's both used and deeply valued by its Model S owners globally.
Last week, after the Bolt EV unveiling in Las Vegas, Green Car Reports took part in a roundtable with General Motors CEO Mary Barra, product chief Mark Reuss, executive chief engineer for electrified vehicles Pam Fletcher, and other executives.
ALSO SEE: Germans Vs Tesla In High-End Electric Cars: Will Fast Charging Follow In Time?
We noted that Audi, BMW, Nissan, and Volkswagen have all announced plans and funding to support the expansion of fast-charging sites in the U.S. to support their electric cars.
And we asked whether GM too would fund the expansion of a CCS quick-charging network to let Bolt EV buyers to travel beyond a 70- to 100-mile radius of their homes, where Chevy expects the bulk of recharging to be done.
The answers were swift and firm.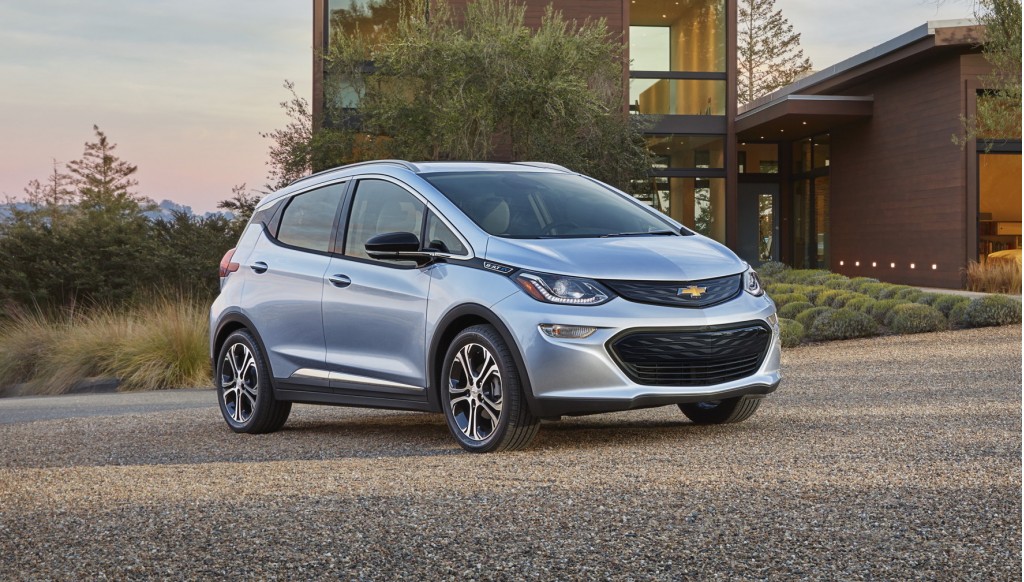 2017 Chevrolet Bolt EV
From CEO Mary Barra: "We are not actively working on providing infrastructure [for the Bolt EV]."
From electrification exec Pam Fletcher: "We believe all our customers should benefit from any infrastructure spending."
And then the questions moved on to other issues.
READ THIS TOO: Audi e-Tron Electric Car To Offer 150-kW Quick Charging Sites
Certainly plug-in electric cars remain a very small proportion of GM's North American business: The 15,400 Volts and 2,600 Spark EVs it sold last year represent just 0.6 percent of its overall U.S. sales of 2.9 million vehicles.
The plug-in car sales numbers for BMW and Volkswagen in particular are far higher: roughly 3.8 percent and 1.2 percent, respectively.
Even if GM sells the full 30,000 Bolt EVs and a like number of Volts during 2017, those would still add up to only 2 percent of its total.
Infographic for 100 CCS fast-charging stations to open during 2015, funded by BMW, VW, ChargePoint
Indeed, drivers of GM's gasoline and diesel fueled vehicles would see no return at all from the company spending tens of millions of dollars on a CCS charging network.
But perhaps the answers simply reflect a hard-nosed calculation: Even if GM plug-in sales soar, the need for a CCS charging network will be relatively more acute for other makers than for one of the three largest carmakers in the world.
That, of course, is the blessing of a widely shared charging-network standard: All drivers benefit from the efforts of even a single carmaker.
CHECK OUT: Electric-Car Fast-Charging Networks: Competition Heats Up
The corresponding curse, of course, is that all drivers lose if no maker takes the lead.
And funding fast-charging instrastructure is clearly one area in which GM is quite content not to lead.
[Chevrolet provided airfare, lodging, and meals to enable High Gear Media to bring you this first-person report.]
_______________________________________