The Hyundai Tucson Fuel Cell crossover became available for lease in California last year; it will soon be followed by the 2016 Toyota Mirai, and then a Honda model.
Together, the three vehicles mark the first significant effort by carmakers to market hydrogen fuel-cell vehicles to the general public.
With a few existing hydrogen fueling stations and its aggressive zero-emission vehicle mandate, California was the logical place to start.
DON'T MISS: Hydrogen Fuel Now Available For Sale In California
But when Honda, Hyundai, and Toyota began planning their fuel-cell cars, none of those California stations could actually sell hydrogen to retail customers.
That changed on January 8, when the California State University Los Angeles Hydrogen Research and Fueling Facility became the first station in the U.S. certified to sell hydrogen by the kilogram to drivers.
Making the transition to retail operations has been far from easy, though, according to Michael Dray--technical operations manager of the facility--in a recent interview with HybridCars.
2015 Hyundai Tucson Fuel Cell, 2016 Toyota Mirai at hydrogen fueling station, Fountain Valley, CA
Dray has been working at the site since it first opened in May 2014. It previously dispensed hydrogen only to carmakers testing prototype vehicles.
The station produces its hydrogen onsite using wind and solar power.
Stations like the Cal State facility previously could not charge for hydrogen dispensed to individual drivers, because of the lack of an accurate metering system.
ALSO SEE: CA Fuel-Cell Car Drivers Say Hydrogen Fuel Unavailable, Stations Don't Work (UPDATED)
With no way of knowing precisely how much hydrogen was being dispensed, there was no way to bill customers.
State regulators gave Cal State approval to begin charging by the kilogram for hydrogen earlier this year--though for the moment, automakers are covering most fueling costs for early fuel-cell vehicle drivers.
There have been some "hiccups," according to Dray, in the process of getting this pioneering station up and running.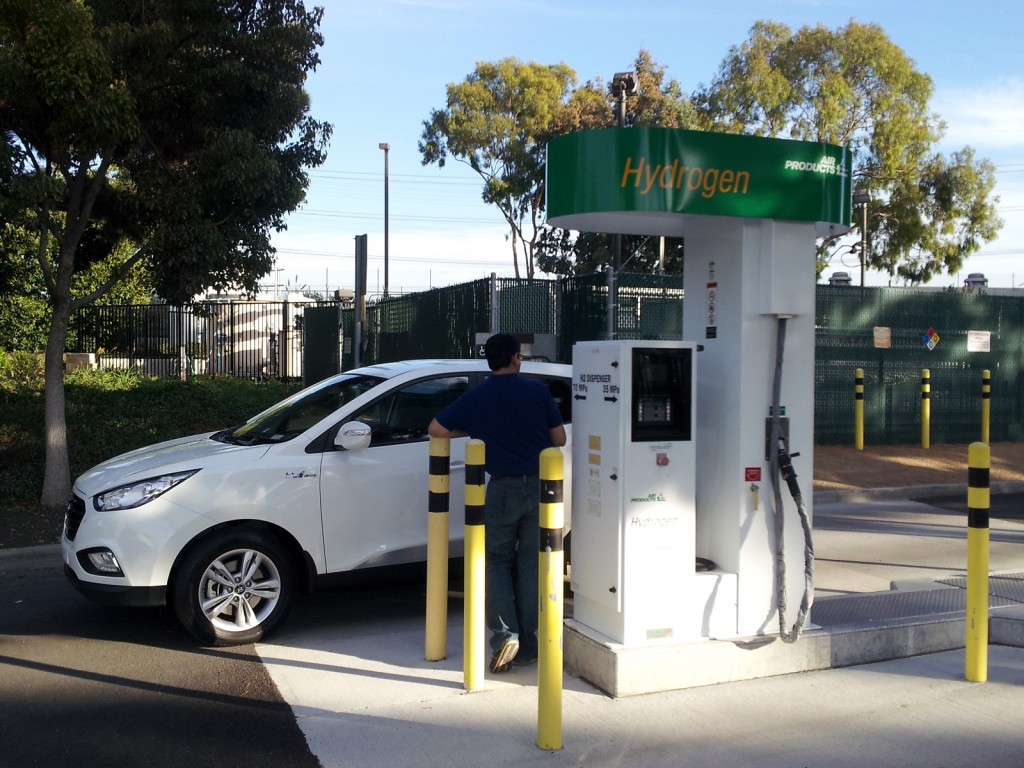 2015 Hyundai Tucson Fuel Cell at hydrogen fueling station, Fountain Valley, CA
A number of different reliability issues have kept the Cal State staff and students who are tasked with running the station busy throughout the year, he said.
Those problems are not unique to the station he runs, Dray said, commenting that failures at multiple stations often compound frustration for drivers, who are forced to spend more time in L.A.'s infamous traffic searching for fuel.
"I think [reliability] is going to be an issue for some time," Dray said, attributing the challenges to the newness of the technology.
MORE: Hydrogen Stations In California: How Many Needed As Fuel-Cell Cars Arrive?
Still, he noted that Cal State has completed 600 successful refuelings over the past year.
Thus far, it hasn't collected a single cent directly from a customer. Manufacturers are picking up the tab, for now.
The Hyundai Tucson Fuel Cell crossover comes with unlimited free fuel, as did the Honda FCX Clarity.
2015 Hyundai Tucson Fuel Cell at hydrogen fueling station, Fountain Valley, CA

The 2016 Toyota Mirai will also include three year or $15,000 of free hydrogen when the first cars are delivered to California customers in October.

At present, the stations are apparently somewhat underutilized, with the Cal State facility operating at just 15 percent capacity.

That will clearly change as more fuel-cell cars become available.

In the meantime, the atmosphere among fueling-station operators is more collaborative than competitive, Dray says.

"We're still a relatively small community," he said, noting that operators, and government agencies, and other interested groups continue to work together closely.

One near-term priority is establishing some form of standards for the refueling process, and for accepting payments.
Audi A7 h-tron quattro
A larger pool of people with the relevant skills and knowledge to build and operate hydrogen stations is also needed, Dray says.
California has already allocated $200 million in funding to expand its network of stations over the next decade.
Toyota expects 48 fueling stations to be in operation by the end of 2015, and there could be as many as 75 by 2020.
[hat tip: Brian Henderson]
_______________________________________________