The Hyundai Tucson Fuel Cell crossover has been available for lease in parts of California for more than a year, but that's not the only North American market where it can be found.
Hyundai's hydrogen fuel-cell vehicle has also been available to a finite number of Canadian drivers since January.
So far, the company says, Canadians are showing enthusiasm about fuel cells for zero-emission transportation.
DON'T MISS: Hyundai Tucson Fuel Cell: Early Drivers Discuss Experiences Traveling On Hydrogen
A full 77 percent of Canadians believe fuel-cell cars are the "wave of the future," according to a survey (via HybridCars) conducted by the research firm Ipsos Reid on behalf of the carmaker.
The survey found that 75 percent of respondents would like to drive a vehicle not powered by gasoline, and 64 percent said they would prefer that car to be powered by hydrogen.
Fuel-cell cars are often compared to battery-electric cars, as both powertrain technologies offer zero-emission driving.
2015 Hyundai Tucson Fuel Cell at hydrogen fueling station, Fountain Valley, CA
Perhaps not surprisingly, Hyundai claims its survey respondents were less enthusiastic about battery-electric cars than about fuel-cell vehicles.
Charging an electric car was considered too burdensome by 71 percent of respondents, while 67 percent responded that battery-electric cars are "too much of a hassle" to drive.
According to Hyundai's interpretation of the survey results, Canadian buyers view the reduced environmental impact of fuel-cell cars to be as important as the financial benefits of cutting out gasoline.
ALSO SEE: 10 Questions On Hydrogen Fuel-Cell Cars To Ask Toyota, Honda & Hyundai (Oct 2014)
The company noted that 74 percent of respondents saw some benefit in hydrogen cars not being reliant on "highly volatile" oil prices.
But an even higher proportion--82 percent--acknowledge that producing no tailpipe greenhouse-gas emissions was a benefit of fuel cells.
Of course, the overall carbon footprint of hydrogen production and distribution, as compared to electricity generation for battery-electric cars, is still a subject of intense debate.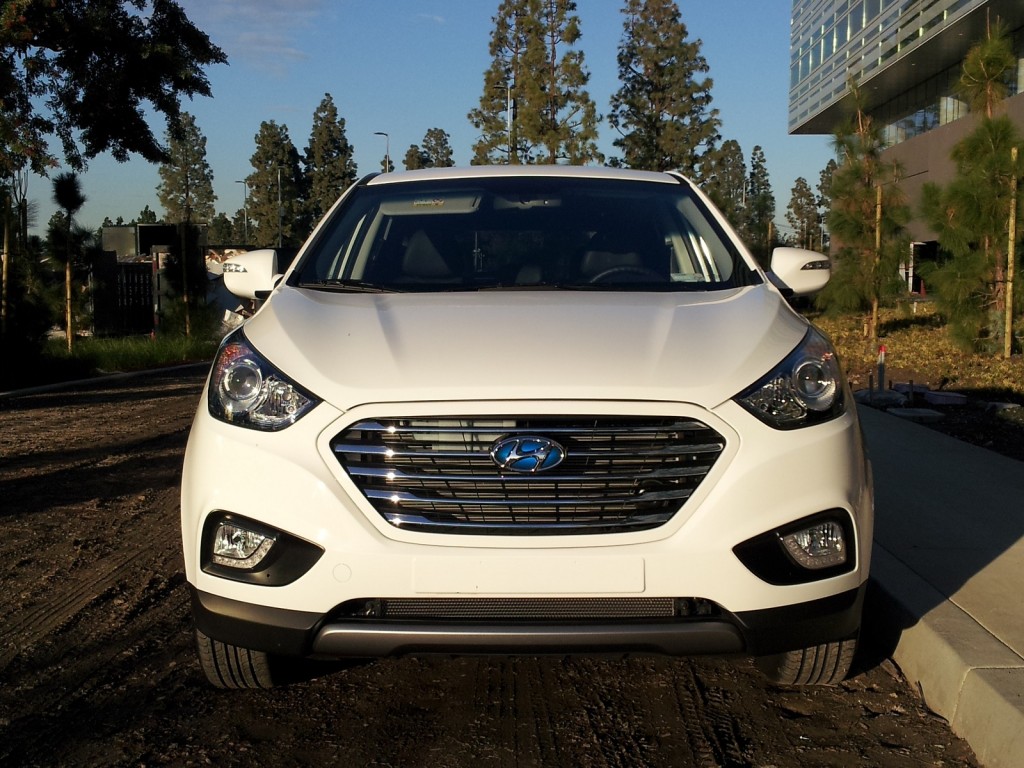 2015 Hyundai Tucson Fuel Cell at Hyundai headquarters, Fountain Valley, CA
To prove hydrogen's green credentials, Hyundai commissioned a second survey on environmental impact from a second research firm, Offsetters.
Accounting for emissions related to hydrogen production, it found that a Tucson Fuel Cell will produce 40 percent lower "well-to-wheels" emissions than a comparable gasoline vehicle.
MORE: Hyundai On Hydrogen Fuel-Cell Vehicles: Critiquing Its Claims
However, there was apparently no direct comparison of wells-to-wheels emissions between fuel-cell and battery-electric cars.
The Hyundai Tucson Fuel Cell is currently available in Canada only in the Vancouver area, and only on a three-year lease.
Hyundai is expected to fall short of its original goal of delivering 1,000 units globally by the end of 2015, having delivered just 273 globally as of May.
[hat tip: Brian Henderson]
_______________________________________________