This week marks the fourth anniversary of the first sale of a Nissan Leaf electric car.
Roughly 150,000 sales later, the Leaf is by far the bestselling electric car in the word, and it's often become a poster child for the plug-in electric vehicle segment.
RELATED: Owner Of 100,000-Mile Nissan Leaf Electric Car To Be Honored Monday
It all started with a black 2011 Leaf delivered to California resident Olivier Chalouhi on December 11, 2010--but many other significant and unusual examples of the Leaf have appeared since then.
To commemorate the fourth anniversary of its launch, Transport Evolved decided to look back on four special Leafs.
Steve Marsh's 2011 Nissan Leaf: 11 Months, 36,000 Miles

One of them is a 2011 Leaf driven by Washington state resident Steve Marsh. Despite a 130-mile round-trip commute, range anxiety hasn't been much of a concern as Marsh has racked up the miles.

The Leaf currently has more than 100,000 miles on its odometer. While the battery pack has lost about 17 percent of its capacity, the car is still going strong.

MORE: World's First Nissan Leaf Electric Pickup Truck, For Shop Use Only (Video)

High-mileage Leafs aren't unknown. Many are operated in commercial fleets--including as taxis--proving that electric cars can handle the daily grind.

As one of only a handful of widely-available electric cars, the Leaf has also taken on some bizarre roles over the past four years.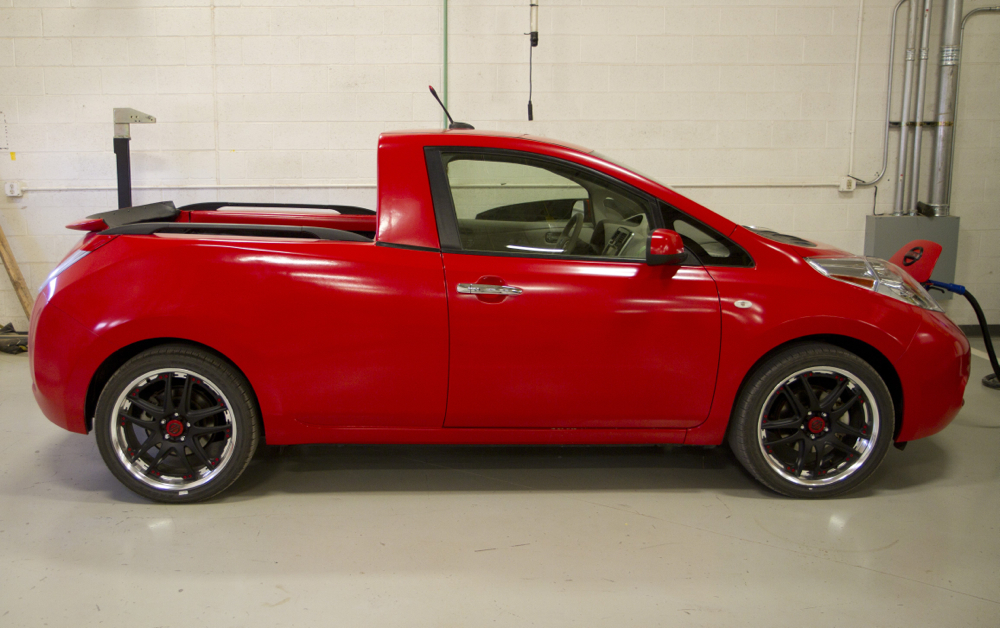 Nissan Leaf pickup truck

It may not be as luxurious as a Cadillac or Mercedes-Benz, but the Embassy Suites Nashville South hotel in Tennessee found that the Leaf still makes a pretty good limousine.

Seeking a greener alternative, the hotel commissioned a Missouri firm to stretch a Leaf--and add an extra row of seating--to create a zero-emission airport shuttle vehicle.

Nissan itself creatively modified a Leaf, turning one into a pickup truck using parts from a Frontier. Named "Sparky," it's used to transport parts around Nissan's proving ground in Stanfield, Arizona.
Nissan Leaf and Nissan e-NV200 Ultraman ginga editions

However, the Leaf's strangest transformation may be that of vehicular supporting character to Japanese superhero Ultraman.

For the new TV show Ultraman Ginga S, Nissan dressed up a Leaf--along with an e-NV200 electric van--with bright orange paint, a body kit, and some futuristic weapons.

DON'T MISS: Nissan Leaf Electric Car Becomes Futuristic Attack Vehicle On Japanese TV Show (Video)

It may not be as intimidating as the Batmobile, but then again Bruce Wayne never has to worry about gas money.

It's been an interesting first four years, and we're eager to see what the years ahead hold for the Nissan Leaf. Maybe there will be more laser cannons.

_______________________________________________