Next week, the Toyota Fuel Cell Sedan will be introduced in detail at the Los Angeles Auto Show, possibly with a new model name (rumored to be Mirai).
Small numbers of Hyundai Tucson Fuel Cell crossovers are now on the road, and Honda will launch its next-generation hydrogen fuel-cell car within two years.
DON'T MISS: 10 Questions On Hydrogen Fuel-Cell Cars To Ask Toyota, Honda & Hyundai
In other words, expect to hear a great deal more about fuel-cell vehicles in the coming years--despite the small numbers of them that will appear on actual roads by 2020.
Last month, we published an article suggesting 10 questions that carmakers should be prepared to answer as they launch hydrogen fuel-cell vehicles.
Toyota Fuel Cell Sedan at Aspen Ideas Festival [photo: Riccardo Savi]
It generated enough discussion (and 600 comments!) that all three carmakers agreed to provide formal responses to the questions.
Answers, annotations, sources
We've now received those answers, and the California Fuel Cell Partnership chimed in on seven of the 10 questions as well.
Hyundai provided the most detailed response: six single-spaced pages with copious reference links; the Fuel-Cell Partnership was briefest, at two pages.
The Korean maker also spent by far the most time underscoring the shortcomings of battery-electric vehicles.
2015 Hyundai Tucson Fuel Cell at Hyundai headquarters, Fountain Valley, CA
After assessing the volume of material, we decided it needed to be summarized rather than reproduced verbatim, to let readers compare the positions taken by the automakers, along with some analysis on our part.
The first of several topics are the three questions we had grouped under the heading, "Comparisons to Battery-Electric Vehicles."
QUESTION 1
The main advantage of hydrogen vehicles is that they can refuel for 300 miles in less than 10 minutes. The Tesla Model S can now Supercharge to get 200 miles in 20 minutes, and some analysts suggest larger batteries can be DC quick-charged in the future at even higher power than Tesla's 135 kilowatts.
If an affordable battery-electric car in 2020 offers 250 miles of range and can recharge to 80 percent in, say, 12 to 15 minutes--then how much of an advantage will hydrogen fuel-cell cars retain?
The general response here suggested that comparing today's fuel-cell vehicles to hypothetically better electric cars at some future point wasn't particularly useful, or fair.
2009 Honda FCX Clarity
Fuel-cell cars today provide 300 miles of range or more, with refueling in as little as 3 minutes. That range number too is expected to rise over time--with no concern over degradation of the fuel-cell stack itself.
Hyundai was most pointed: "We can all speculate about future potential product innovations, like advanced battery technologies, but at this point they are just that: speculation."
Battery-electric drawbacks
As in its other responses, the Korean maker was fairly direct in highlighting the drawbacks of battery-electric cars.
In this case, Hyundai added, "The fact remains, there are still concerns over the impact of DC fast-charging on battery durability and longevity"--and cited a passage from the Nissan website that recommends owners "minimize" the use of fast charging to lengthen battery life.
First 2015 Hyundai Tucson Fuel Cell delivered to lessee at Tustin Hyundai, June 2014
It also noted that DC fast-charging is not widely available, saying it is "primarily limited to commercial and industrial areas with access to 3-phase, high-voltage, and industrial-grade electric service" and noting that fast charging at home is "just not viable at this time."
Finally, Hyundai put some brackets around Tesla Supercharging. It suggsted that Model S owners either had to buy the $10,000 battery upgrade (which a vast majority already do) or pay $2,000 more for the higher-power onboard charger.
2013 Tesla Model S at Supercharger station in Springfield, Oregon, Nov 2013 [photo: George Parrott]
And it quoted Tesla's own website in saying that a 30-minute charge at a Supercharger station provides about 170 more miles in an 85-kWh Tesla Model S, with 20 minutes giving only a 50-percent recharge.
Suited to larger vehicles
Honda simply highlighted the 300-mile range, and refueling time comparable to gasoline cars, of fuel-cell vehicles.
It also noted that fuel-cell powertrains can be used in a variety of vehicles. In Honda's eyes, we might add, this likely applies to larger segments like minivans, SUVs, perhaps even pickup trucks.
Toyota too highlighted the advantages of fuel cells in larger vehicles, noting that half of all new vehicles sold in the U.S. are now pickup trucks, minivans, SUVs, and crossover utility vehicles.
Toyota Fuel Cell Sedan pre-production prototype, Southern California, Sep 2014 [Mike Magrath]
"We see the potential for fuel-cell expansion across a variety of platforms in the future," Toyota said, even though its "initial offering is a sedan."
In contrast, Toyota said, "To scale up in vehicle size, there are exponentially diminishing returns to adding battery, as the added weight requires added structural reinforcements and decreases vehicle efficiency."
OUR TAKE: Saying that you can't compare today's fuel-cell cars to hypothetical future electric cars is fair, certainly. But none of the four respondents actually answered the question we posed: If future DC fast-charging brings "refueling time" for battery-electric cars closer to that of hydrogen vehicles, is there still an advantage?
That said, we think it's a valid point that we won't see larger battery-electric vehicles in the near future: minivans, SUVs, and pickup trucks. The much-delayed Tesla Model X may break that rule, certainly, but it's a very open question as to whether the larger, heavier, blockier vehicle will offer range that's comparable to that of the Model S sedan.
Honda FCEV Concept, 2013 Los Angeles Auto Show
Fuel-cell makers thus seem to be saying, to one degree or another, that we may see a split among zero-emission vehicles: battery-electrics in the smaller segments, hydrogen power for the larger light trucks that American buyers like so much.
As Honda noted in suitably bland corporate-speak, "It will be positive for the market if all technologies advance and consumers have low-carbon choices."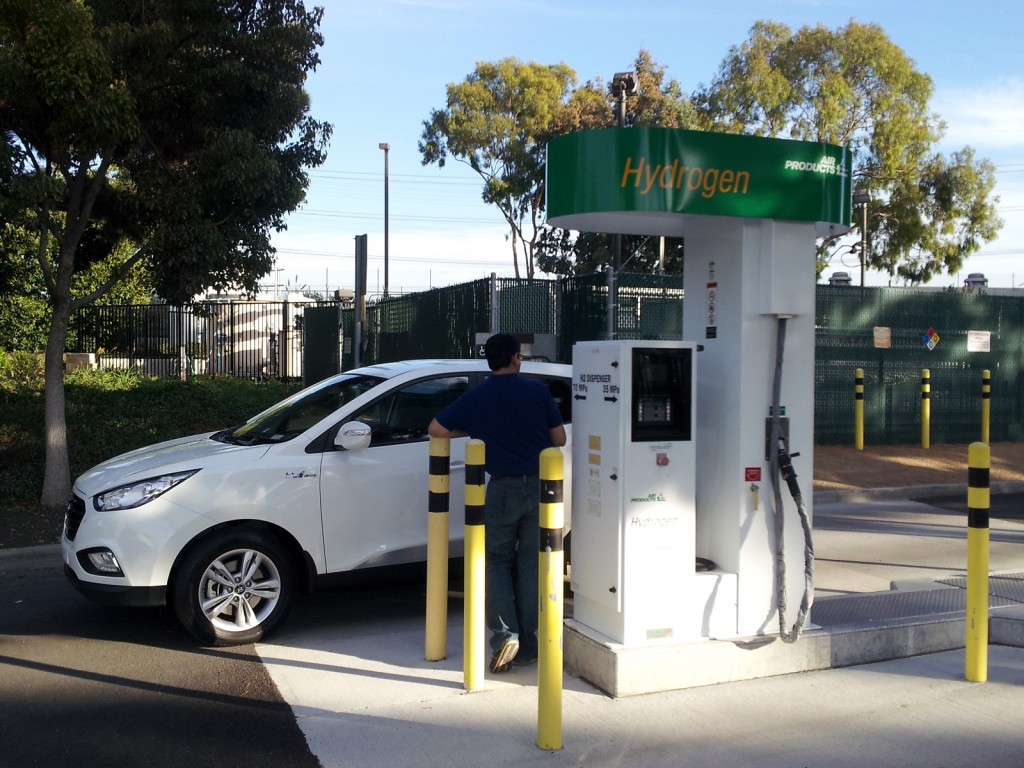 2015 Hyundai Tucson Fuel Cell at hydrogen fueling station, Fountain Valley, CA
QUESTION 2
How much of a disadvantage for early adopters is the requirement to travel 10 to 30 miles to a specific location to refuel, compared to the home and/or workplace charging used for the majority of electric-car miles today?
The summary here was fairly unanimous: We will only offer hydrogen vehicles to consumers who are close to fueling stations, and besides, electric cars have problems too.
Honda hydrogen fueling station in Torrance, California.
Hyundai provided by far the longest answer to this question. Boiled down to its points, the company said:
Hyundai "takes great care" to make sure those who lease its Tucson Fuel Cell all live or work relatively close to a refueling station
"At no time" would the company expect an owner to have to travel 10 to 30 miles to refuel
As for electric cars:
(1) home or workplace charging isn't an option for many owners; 
(2) extension cords are not recommended for use with Chevrolet, Nissan, or Toyota electric cars;
(3) and 45 percent of U.S. vehicles are larger than a mid-sized sedan or compact crossover utility, where batteries would "negatively impact passenger and cargo space, driving range, or vehicle price"
Honda said it had worked with researchers at the University of California--Irvine who determined that in neighborhoods where hybrids and electric cars were already found, it would take fewer than 100 stations to put hydrogen fueling within 6 minutes of "a large share" of the likely buyers.
Toyota cited the same study, noting that 68 optimally located stations could support roughly 10,000 fuel-cell vehicles.
The California Fuel-Cell Partnership said "self-selection" meant that nearly all drivers of fuel-cell cars from Honda, Hyundai, Mercedes-Benz, and Toyota live near a hydrogen station. Many, it said, also work near one and may commute past a third such station.
Light-duty vehicle type scenario, now-2050 (California Air Resources Board)
As the network grows to 50 fueling stations over the next 12 months, that will open up "convenient fueling throughout California--including popular vacation destinations."
OUR TAKE: Certainly restricting the sales of your cars to drivers who live near fueling stations makes eminent sense.
If California fueling infrastructure now planned will support only 10,000 vehicles, however, we wonder exactly how many such cars we'll see on California roads by 2020--or even 2025. (The state has close to 100,000 plug-in electric cars on its roads today.)

National Plug-In Day 2012: San Francisco, with 60 Nissan Leafs in front of the Golden Gate Bridge
QUESTION 3
A small but strong and vocal lobby of owners, supporters, and advocates has advocated for electric cars for 20 years now. Where is the similar groundswell of fuel-cell advocates? Where do we find the consumer demand for these cars?
All four responses here came down to the same idea: If you build them, they will come.
"As the number of fuel-cell vehicles grows," Hyundai wrote, "we expect that advocates will grow rapidly as our early adopters, their friends, and family members get to experience the full benefits of this technology."
Hyundai also hedged its bets, noting that it "supports battery-electric advocates in their desire to create a better future for everyone"--and that the company is developing its own battery-electric vehicle "for specific consumers."
First 2015 Hyundai Tucson Fuel Cell delivered to lessee at Tustin Hyundai, June 2014
But despite "more than 20 years to articulate the merits of battery technology," Hyundai wrote, electric cars "are still not a compelling choice for many consumers, especially beyond the initial surge of early-adopter consumers."
Honda wrote, tersely, that it thinks as consumers learn more about how fuel-cell vehicles can fit into their daily lives, "they will self-organize and advocate for them."
"In time," the company said, it expects "additional fuel-cell vehicle supporters and advocates to emerge."
Toyota didn't answer the question directly, but offered historic context instead: "When we introduced the Prius almost 20 years ago, many thought the same ... there was no demand for a hybrid vehicle."
Finally the CaFCP said that "every day [we] receive phones and e-mails from individual and fleet operators who want fuel-cell vehicles."
It also noted that when it participates in alternative-fuel-vehicle or electric-car events, "most members welcome fuel-cell vehicles as just another electric car."
First Mercedes-Benz B-Class F-Cell hydrogen fuel-cell vehicle delivery, Newport Beach, Dec 2010
OUR TAKE: Saying that advocates will arise spontaneously once they experience the cars is a reasonable position for carmakers to take. Indeed, it follows the model seen with hybrids and plug-in electric cars.
But we will have to see whether fuel-cell owners and advocates will evince the same level of passion and commitment as electric-car owners or whether, in the words of one analyst, "Fuel-cell drivers just want a car--not a cause."

(Our next articles will cover the four questions we listed under Fueling Infrastructure and Energy Balance.)
_______________________________________________