Tesla Motors, Palo Alto, California
The suggestion hit the day before Christmas: Analyst Yra Harris of Praxis Trading predicted in a CNBC interview that General Motors might buy Tesla Motors sometime in 2014.
Harris called it "a perfect fit" for one of the three largest carmakers in the world to buy the closely-watched Silicon Valley electric-car startup.
The internet went wild.
Yra Harris of Praxis Trading on CNBC discussing why he thinks GM could buy Tesla Motors, Dec 2013
Investors, analysts, electric-car advocates, and Tesla supporters all weighed in from various viewpoints--although we'd say the majority opinion seemed to be on the "Hell, no!" end of the scale.
At a reasonable value, Harris said, "that deal is made in Heaven"--although in discussing Tesla's current stock price, he said, "to me, Tesla values are in La-La Land."
Harris did admit "it's a way-out prediction," and then the interview dissolves into banter and holiday wishes.
Harris's prediction starts at 1:35 in the CNBC video clip, and runs for exactly 1 minute.
MUST READ: Electric Cars So Disruptive, Gas Cars Will Be Obsolete In 2016, Says Futurist
What would Tesla offer GM?
But beyond issues of implementation, let's look at the pros and cons for each side. First, what would Tesla bring GM?
2014 Tesla Model S
Long-range battery electric vehicles: GM's biggest effort in plug-in electric vehicles has been the Volt, with a battery pack providing 38 miles of range and then a range-extending engine that produces electric power to drive the car for another 300 miles or so.
That system, called Voltec, is the core of GM's plug-in efforts and is expected to spread across a wider range of vehicles, body styles, and segments in future.
Its sole battery-electric vehicle today is the low-volume Chevrolet Spark EV minicar, with a range of 82 miles. It's hardly a competitor to the large Tesla Model S sedan, with ranges of 208 or 265 miles.
Harris suggested in the interview that buying Tesla would save GM the cost of developing its own electric-car technology.
For several years now, GM has a very large battery lab--which it expanded again last year--to evaluate dozens or even hundreds of the newest cells and rigorously test those that look promising.
Moreoever, GM has repeatedly said it expects to introduce an electric car with a range of 200 miles within the next two or three years, at a cost of $30,000.
It remains to be proven if the company can do so. But if it can, it's unclear that Tesla would provide any lasting advantage.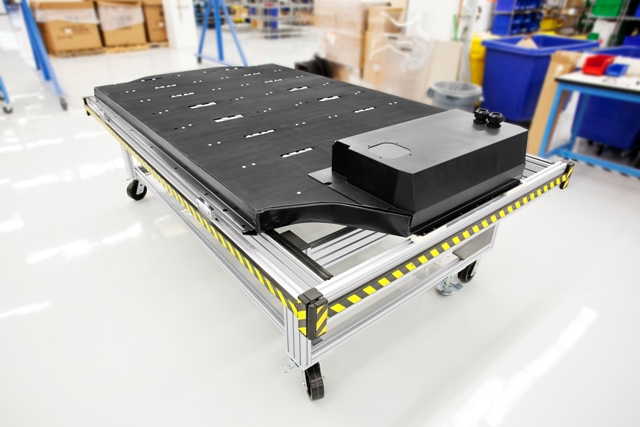 Tesla Motors - Model S lithium-ion battery pack
Lower battery cost: Conceivably, Tesla could provide GM with the lowest per-kilowatt-hour costs for large battery packs. We don't know for sure, because no automaker will confirm pack cost, but it's a relatively plausible assumption.
But GM and Tesla use radically different types of lithium-ion cells. GM, like virtually every other large carmaker, uses large-format cells--from dozens to perhaps 200 of them.
Tesla, on the other hand, uses thousands of specially-designed small "commodity" cells in the 18650 format--a tactic no other carmaker has put into production.
Its current cell supplier, Panasonic, also custom-makes cells specifically to Tesla's requirements, whereas the cells used by GM are more "off the shelf."
The cells it buys from LG Chem for its Chevrolet Volt range-extended electric car, for example, are identical or very similar to the ones that LG Chem also sells to Ford for use in its low-volume Focus Electric.
2014 Cadillac ELR revealed at 2013 Detroit Auto Show
More Cadillac buyers: In the interview, analyst Harris suggested that adding Tesla to GM dealerships would "lull people into a Cadillac," meaning that additional shoppers drawn in by the allure of an electric Tesla might be persuaded to buy a Cadillac.
At least so far, however, we've seen no data that suggests that buyers are cross-shopping the Tesla Model S against any Cadillac model.
We'll see how the $76,000 2014 Cadillac ELR range-extended electric coupe fares in the market this year, though GM has said it expects to sell only 2,000 to 4,000 of them.
Luxury brand: Tesla has definitely succeeded at one of the hardest tasks in the auto industry: building a credible brand from scratch that includes a vehicle with attractive styling, good performance, comfortable ride, and a sales and service experience that owners rave about.
The combination of that ownership experience and Tesla's unique technology image are a hugely valuable asset. Perhaps more than technology, it's why Tesla Motors would be an alluring purchase target for another automaker.
Tesla has ambitions to be a mass-market brand, providing electric cars at a variety of price points, but for the moment it's largely viewed as a luxury brand--since its cars curently start at $69,900.
Harris said buying Tesla would get GM not only the company's electric-car technology, but a genuine luxury brand in the bargain: "It's everything GM needs to build upon."
The challenge for GM is how the Tesla brand would fit into its slimmed-down global brand portfolio of Chevrolet, Buick, and Cadillac (plus GMC in North America).
Tesla Motors, Palo Alto, California
While many electric-car fans seemingly dismiss Cadillac out of hand, that luxury brand has slowly rebuilt itself on the basis of fast, luxurious, rear-wheel-drive sedans, and its recent ATS compact and CTS mid-size sedans have received rave reviews.
Much to the dismay of German luxury brands, moreover, a Cadillac CTS-V recently captured the lap record around the famed Nürburgring race circuit for fastest production sedan. It went largely unnoticed in the States, but it speaks to the steps Cadillac has taken to make itself competitive.
MORE: Consumer Reports Verdict: 2014 Cadillac ELR 'Priced Out Of Its League'
Analysts say Cadillac is perhaps halfway through a 20-year renewal program, and offers great promise in China--though the stagnant and brand-loyal European market will remain a challenge.
Brand proliferation hurt GM greatly before its bankruptcy, and adding a new brand--one that had nothing in common with any of its others, including technology--would require a very clear understanding of the relationship between Tesla and Cadillac.
General Motors Renaissance Center, Detroit, Michigan
What would GM offer Tesla?
Dealership and service network: Harris said in the CNBC interview that GM would provide Tesla with an instant distribution network, solving the problem of "those showrooms everyone's beating them up about."
Interviewer Rick Santelli agrees, saying, "From a service standpoint, from a dealership standpoint, it does make a lot of issues disappear."
We'd argue that this suggestion shows neither man  seems to understand Tesla deeply. (Santelli admitted he'd never driven one of the company's cars, which he called "gorgeous.")
Today, Tesla continues to open stores in states where they're legal, along with service facilities that are usually not located adjacent to the showrooms.
Meanwhile, the company battles with state auto-dealer associations that back state laws making its direct-sales model illegal and requiring all cars sold in a state to be distributed by an independently-owned third party (i.e. an auto dealership).
Here's the rub: Tesla buyers clearly relish the company's direct-sales model, in which they visit a Tesla Store to learn about the car, but then order the car online from Tesla itself.
Retrofitting Tesla electric cars back into existing GM dealerships would likely eradicate that element of the buyer experience.
Tesla Motors, Palo Alto, California
It's also not clear that GM would want to retain the expensive after-sale service model Tesla has instituted, in which technicians come to a clients house if needed and provide a top-of-the-line Model S loaner if the car needs to be serviced.
Yet beyond the electric car itself, those experiences--eliminating haggling with a dealership salesman, and at-your-own-house service--distinguish the Tesla brand as something entirely different from "regular" cars.
MORE: Elon Musk Says Tesla Won't Be Sold, But Elon Musk Is Wrong
Rolling Tesla into existing GM dealers would, we strongly suspect, destroy that distinction. And we suspect GM is well aware of that.
Tesla Motors, Palo Alto, California
Economies of scale: This one's hard to call. As one of the three largest carmakers in the world, GM can get rock-bottom prices from the best suppliers for complex parts and assemblies supplied to plants around the globe.
On the other hand, GM currently makes no high-volume aluminum cars (as Tesla does), and Tesla is able to buy expensive subassemblies (steering-column stalks, for example) from Mercedes-Benz--whose parent company Daimler owns a portion of Tesla.
It also arguably has access to Toyota's global parts bin as well, since Toyota too owns a share of Tesla.
Our take
In common with most industry analysts, we've long believed that if it survives, Tesla Motors will ultimately be sold to a much larger carmaker.
The global car industry has ferociously high capital costs--each new vehicle architecture runs about $1 billion--and long product development cycles.
It's also not particularly profitable, on average, though luxury brands do better in that regard than mass-market brands.
The ideal time for Tesla's owners to sell it would be once it its Model X all-wheel-drive crossover has entered production early next year and it has shown concepts or early designs for its third-generation, less-expensive, 200-mile all-electric sedan, to be priced at $35,000.
Assuming that third-generation car for 2017--possibly to be named the Model E--is well-received and the company continues to grow sales of the Model S and Model X, along with launching into China as well as Europe, Tesla Motors may be well placed by sometime during 2015.
Best time to sell?
From its owners' point of view, that might be the ideal time to sell.
Would GM sweep in this year with a pre-emptive offer, which as of today's stock price would cost them at least $18 billion plus a hefty purchase premium?
We'd bet against it. We suspect that GM is watching and studying Tesla closely, but that the electric-car maker still isn't quite ready to be bought.
But stranger things have happened.
What do you think will happen to Tesla Motors over the next five years?
Leave us your thoughts in the Comments below.
_______________________________________________