Ever since a handful of Nissan Leaf owners in Arizona noticed that their cars had started to suffer from premature battery aging, Nissan has been criticized for its apparent lack of transparency on the subject.
Just over a week ago, Nissan announced it had asked electric car advocate Chelsea Sexton to convene a Leaf advisory board to facilitate communication between the Japanese automaker and its electric car customers. 
As well as picking the board members from Leaf owners and electric car drivers worldwide, Sexton was also tasked with presenting some of the concerns and questions of Leaf owners to Andy Palmer, Nissan's executive vice president, in a series of filmed, video interviews.
On Thursday, Nissan released the first of these videos on YouTube, tackling Nissan's handling of battery degradation, dashboard gauges, battery replacement, and the upcoming 2013 Nissan Leaf.
According to Sexton, the video was recorded in a single sitting, and only received minimal editing to address sound problems sustained during recording. 
Battery degradation
Starting the interview, Sexton asked Palmer to explain Nissan's math behind the assertion that all Arizonan Leafs were performing within Nissan's expectations
"Let's try to be very straightforward," Palmer said. "There is a degradation of a battery over life. It's straightforward physics and chemistry. It's non-linear."
"We did the original mean, norm, if you want to call it that, based on LA4 cycle, and an assumption of 12,500 miles per year," he continued. "We drew a line, and we validated that line, through years and years of testing, against the chemistry that we launched."
From that, Palmer explained, Nissan calculated an average battery life prediction for an average Nissan Leaf, somewhere in the world. 
"The mean line says that after 5 years of normal usage, then you'd be at 80 percent state of health. At 10 years in, you'd be 70."
Reiterating that the way in which you drive, frequent quick charging, vehicle mileage, and extremes of temperature all affect Leaf battery life, Palmer went on to explain the poor battery life experienced by a handful of Leaf owners in Arizona. 
2011 Nissan Leaf SL
"[Phoenix] is a hotter climate, and you know, the usages are towards the more extremities of performance," he said of the seven affected cars with severe capacity loss. 
"To be clear, I'm answering as an engineer. I'm not criticizing anybody. They use their cars in a hotter climate, and sometimes in a very different way."
"We've sold 450 Leafs in Arizona," he continued. "We have data for 400 of them. On average, 'Mr. Arizona' is doing about 7,500 miles per year."
Accounting for the data from all the other Leafs in Arizona, Palmer said that in 5 years, most Leafs in Arizona will be at 76 percent state of health, instead of the 80 percent state of health predicted for cars in more gentle climates. 
Of note, however, is that this prediction was calculated on an average Phoenix mileage of 7,500 miles a year.
That figure is 5,000 miles less than the 12,500 miles per year Nissan used for its initial, normal battery range predictions, something Palmer failed to address in this interview.
2011 Nissan Leaf SL
Battery gauge
As was suggested in the past by Mark Perry, former product planning and advanced technology director at Nissan North America, Palmer confirmed that the battery capacity gauges found on the Nissan Leaf aren't always accurate. 
"We made a decision from the get go to have a source of health meter on the [dashboard]," Palmer explained. "We did it, because we wanted the customer to know the state of health of their battery. And we did it from a security point of view, for the customer's security."
Admitting however, that the slowly diminishing capacity gauge has given some Leaf owners battery life anxiety, Palmer added "The reality is that the meter reads pessimistically."
Lithium-ion battery pack of 2011 Nissan Leaf, showing cells assembled into modules
Battery replacement
Sexton then went on to question Palmer about battery replacement, asking what the cost of battery replacement will be for those who want a healthier pack. 
Palmer's answer was frank, yet devoid of concrete costs. 
"Our preferred form of purchase is that we lease the car and the battery, which means we [Nissan] takes all the risk," he explained. "That tells you that we at Nissan are very confident in the level of technology."
"But there was a requirement from some customers to buy," he added, pointing out that Nissan had anticipated most customers would lease.
"Seen from Tokyo...the only reason that you'd replace the battery is if there was something wrong with the battery, in which case, Nissan would replace it under its 8-year warranty replacement scheme."
The concept that someone would want to buy a new battery, Palmer admitted, was something Nissan hadn't thought of. 
"We never imagined there would be a customer, and apparently there is, who would say at the end of 5 years of life, that they would want to bring that state of health of battery back to 100 percent, and therefore buy a battery," he explained. 
"In consequence of that, we've never set a price for a battery pack," he  added, promising that he would investigate how Nissan would do that, what the price would be, and if a battery replacement was practical or not. 
Palmer also took the opportunity to reiterate Nissan's commitment to customer satisfaction, promising that where needed, Nissan will offer goodwill actions, including updating battery life gauges, to ensure existing customers are satisfied with their cars. 
 2013 Leaf, battery upgrades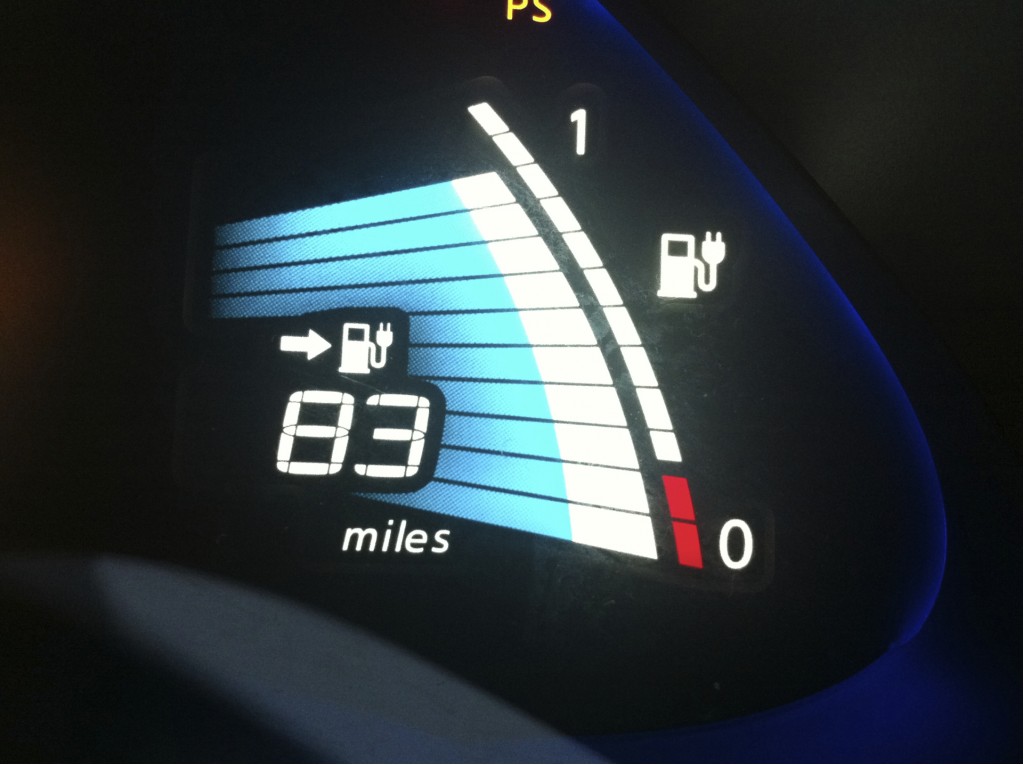 2011 Nissan Leaf State of Charge and Miles remaining
After dealing with the matter of battery life, attention turned to the upcoming 2013 Nissan Leaf, which is due to launch early next year. 
"You'll see small improvements, both in the area of the battery and in the level of the vehicle," Palmer promised. "It's not a revolution: it's an evolution. For example, the gauge accuracy is addressed."
When asked if the lower cost battery pack promised for the 2013 Leaf will bring the cost of the car down, Palmer was non-committal. 
"Clearly, today, the ability to sell electric cars very much depends on the subsidies coming from the government. And clearly, one of the tasks of the manufacturer, is that we assume that the subsidies will [not] last forever," he said. 
"We have to get our costs under control. We're preparing ourselves for a day when subsidies will not be available," he continued. "What you'll see in the U.S. and around the world is a different model mix."
"There's a slightly different change to the lineup. We didn't overtly do it to bring down prices: we did it to basically see it made in the U.S., reduce our exposure to the Yen, and make sure that the cars are more specifically tuned to local customer needs."
As for battery upgrades for early adopters? 
As with battery upgrade prices, Palmer was unable to say if it would be offered by Nissan, or if it was even possible. 
Backward compatibility, and the option of upgrading older Leafs to new battery technology, remained in NIssan's thoughts, however, he admitted.
"Backward compatibility is always an issue. It's our desire that we can get backward compatibility," he explained to Sexton. "Somewhere, what level of change, is still a point of big discussion."
With one video now filmed, and more on the way, Nissan wants to make itself more transparent to owners and potential buyers of its electric cars. 
But do Palmer's responses impress you, or leave you with more questions? And which questions do you feel are still unanswered by Nissan?
Leave your thoughts in the Comments below.
+++++++++++