It must be something in the water.
Yesterday, we learned that every 2011 Buick Regal will offer flex-fuel capability as standard. Now it's Ford's turn; the company announced today that it will have doubled the number of flex-fuel models it builds by the end of the year, fulfilling a 2006 pledge.
2010 Ford F-150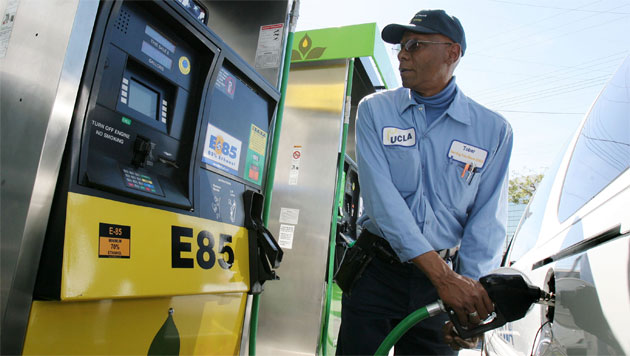 E85 fueling station
Corn Ethanol Pump
That year, the company said, it built about 185,000 vehicles that could run on gasoline, E85 ethanol, or any mixture of the two fuels. Ford didn't give numbers, but said the total by the end of 2010 will be double that number, or conceivably higher.
The company also said it "remains committed" to offering a full 50 percent of its 2012 vehicles flex-fuel capable.
But it added a notable caveat to that promise: "assuming incentives continue to encourage the manufacturing, distribution, and availability of renewable fuels as well as the production of flexible fuel vehicles."
For the 2010 model year, 11 vehicles from Ford come with flexible-fuel capacity built in:
Ford Escape and Mercury Mariner (small crossovers)
Ford Fusion and Mercury Milan (midsize sedans)
Ford Crown Victoria, Mercury Grand Marquis and Lincoln Town Car (full-size sedans)
Ford Expedition and Lincoln Navigator (full-size sport utilities)
Ford F-150 (pickup truck)
Ford E-Series (full-size van)
In addition, the new 2011 Ford Super Duty pickup trucks will offer two different flex-fuel abilities. Models with gasoline engines will run on gasoline or E85, while diesel models will accept pure diesel fuel or up to 20 percent biodiesel, known as B20.
An interesting factoid: A greater volume of ethanol is now produced and used in the U.S. than the volume of gasoline that's made from oil coming from Saudi Arabia and Iraq combined.
That said, E85 ethanol vehicle fuel is still limited to only a few percent of stations nationwide, most in the Midwest. And it's entirely unclear whether buyers see flex-fuel ability as a plus worth paying for, since it's not an option but a standard feature in these models.
Some experts feel rather than running on largely ethanol fuel, the percentage of ethanol in gasoline--now capped at 10 percent--may rise to 12 or 15 percent. The EPA still hasn't rendered a decision, due months ago, on whether to approve a request to allow that.
Automakers oppose raising the ethanol percentage until further studies have been done to understand the impact of the alcohol fuel on the fuel systems of older, non-flex-fuel vehicles.
[Ford]