2010 Volkswagen GTI

The 2010 Volkswagen GTI is ready for the delighted consumers who have been digging this staple of the VW fleet for decades. The changes aren't that significant for 2010, so the question for this edition is: Can the 2010 VW GTI really compete against competition like the MINI Cooper S, Volvo C30, Honda Civic Si and Mazdaspeed3?

The 2010 GTI definitely has some competition as you can see from the list above. So does the GTI hold up? Well, recently are partners over at TheCarConnection.com posted their First Drive of the 2010 and they seem to be pretty smitten, though they do note that the GTI doesn't have a "dramatic calling card" in the looks department. All in all, the 2010 VW GTI is pretty much the same basic car—why mess with perfection, right?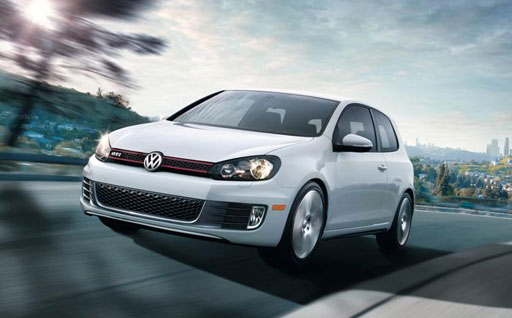 2010 Volkswagen GTI

For 2010, status quo does seem to be the name of the game, but the styling department does seem to be hinting at things to come with the new horizontal grille, headlamps and taillamps. These new features given an elongating effect to the shape of the car, which makes me wonder what is in store for the 2012 edition. Maybe it will have all the excitement of the impending apocalyptic doom that is said to come at the same time. However, for now, the GTI isn't as exciting in the styling department, but does that mean the competition has won?

Not necessarily, the GTI is one of the few models in this market segment that not only comes in a 3-door, but also in a 5-door version. In short, you can have fun and still get you and the 2.5 kids in the car during the week and as we all know being able to live with a car daily is what really sells it. You also get to keep the basic Golf shape, where as with the MINI you have to upgrade to the Clubman S for the extra doors and more room or in the Civic Si you have to change from the coupe to the sedan which changes the image of the car pretty significantly.

Bottom line—The 2010 VW GTI holds its own with a MSRP of $23,290, 200-hp and highway fuel economy in the low 30s. Besides, you have to love the simplicity that is the GTI…it allows you to appreciate the details like the red-edged grill and flawless handling all that much more.

 

Be sure to roll over to TheCarConnection and read there take on the 2010 Volkswagen GTI First Drive. Also, check out the other blog and review entries right here at AllSmallCars.com.