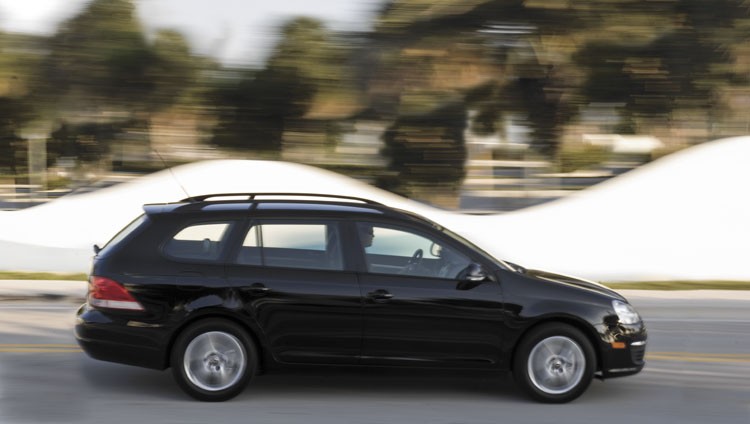 2009 Volkswagen Jetta Sportwagen
Volkswagen diesels have hard-core fans. One of them is our colleague (and "rabid diesel enthusiast") Colin Mathews, who was crazy enough to drive a 1982 Mercedes-Benz 300TD station wagon cross-country last fall--after converting it to run on biodiesel.
Recently he drove a 2009 Volkswagen Jetta Sportwagen, fitted with the TDI turbodiesel engine and a six-speed manual, into the Georgia mountains (up about 1800 feet and then back down again), and averaged 41 mpg.
His results confirm consistent reports from actual drivers that the EPA's official mileage numbers for the Jetta TDI (29 mpg city / 40 mpg highway for the automatic, 30 / 41 for the manual) are far too low.
[EDITOR'S NOTE, October 2015: This article has been popular since we published it in March 2009. In light of Volkswagen's admission that its 2.0-liter TDI diesel vehicles included software that bypassed emission controls during on-road usage, the improved fuel economy described here should now be viewed with the highest suspicion by drivers and buyers.
In fact, a Consumer Reports analysis this month shows that of the three dozen or so passenger vehicles sold with diesel engines, only Volkswagen's consistently exceeded their EPA ratings in real-world use. That suggests that the "cheat mode" software may have been used not only to boost performance, but to give VW a marketing edge by promoting exactly the kinds of results described here.
As a result, Green Car Reports strongly recommends that readers no longer take the fuel economy we describe here as factual--since it was apparently produced by cars that were grossly out of compliance with legal emission limits. Those cars will be recalled and retrofitted (or bought back) by VW to meet those emission rules, after which they will be retested to see how they perform when legal. We will update this article accordingly.]
Last July, Volkswagen hired independent tester AMCI to test the Jetta TDI's "real world" mileage on the road. They came back with 38 city / 44 highway--or 24 percent and 10 percent higher respectively.
Colin says, "I blew them away!" On a 40-mile loop of flat highways, he actually logged 52.4 mpg. While he wasn't officially "hypermiling," he did stay 5 mph below the speed limit, accelerated gradually, and shifted at lower revs (1250 to 1500 rpm)--which, although counterintuitive, provided the most economical figures on the instant-mileage display. The TDI is "so torquey you can do a gradual start in first without pushing the throttle," Colin said, and the same applies through second and third as well.
Given the EPA ratings, he figured he might get 45 mpg at best, so he was shocked--and pleased!--at finishing above 50 mpg.
Reviewers have generally liked the 2009 Jetta Sportwagen TDI that Colin drove. While we're on Volkswagen diesels, the sixth-generation 2010 Golf TDI has already been unveiled for our friends north of the border. We'll see it in the States at April's New York Auto Show, along with the 2010 Volkswagen GTI.
By the way, you can read the eight episodes of Colin's biodiesel odyssey on his travel blog (in order) here, here, here, here, here, here, here, and here. His motto: "Diesel rocks."
2009 Volkswagen Jetta TDI
_______________________________________