The Hyundai Tucson Fuel Cell was launched outside the U.S. in 2013 as the first fuel-cell vehicle to be offered to the broader public in significant numbers.
Roughly two years later, though, Hyundai isn't pleased with sales of its zero-emission crossover utility vehicle.
The Korean carmaker originally said it was planning to sell 1,000 Tucson Fuel Cell vehicles by the end of 2015--but so far it's only managed to move about a quarter of that total.
DON'T MISS: 10 Questions On Hydrogen Fuel-Cell Cars To Ask Toyota, Honda & Hyundai
Global Tucson Fuel Cell sales stood at just 273 units as of May, the company said today, according to the Yonhap news service.
That includes 76 units delivered in 2013, 128 units in 2014, and 69 units for the first five months of this year.
Just 29 of the crossovers were sold in Hyundai's home market of South Korea, with the rest going to the U.S. and Europe.
2015 Hyundai Tucson Fuel Cell at Hyundai headquarters, Fountain Valley, CA
(The Tucson Fuel Cell is called the ix35 Fuel Cell outside the U.S.)
Slow sales could be a result of both the car's relatively high price, and the lack of hydrogen fueling infrastructure in all major markets.
There are just 11 public hydrogen fueling stations in South Korea, including only two in the capital of Seoul, which has a population of more than 10 million.
ALSO SEE: Hyundai Tucson Fuel Cell: Early Drivers Discuss Experiences Traveling On Hydrogen
There are presently 12 stations in the U.S., clustered in southern California--the only region of the country where the Tucson Fuel Cell is available.
About 70 vehicles have been delivered in that region to date.
The state of California has committed $100 million to establish a network of 100 hydrogen fueling stations by 2020, and carmakers are kicking in funds too.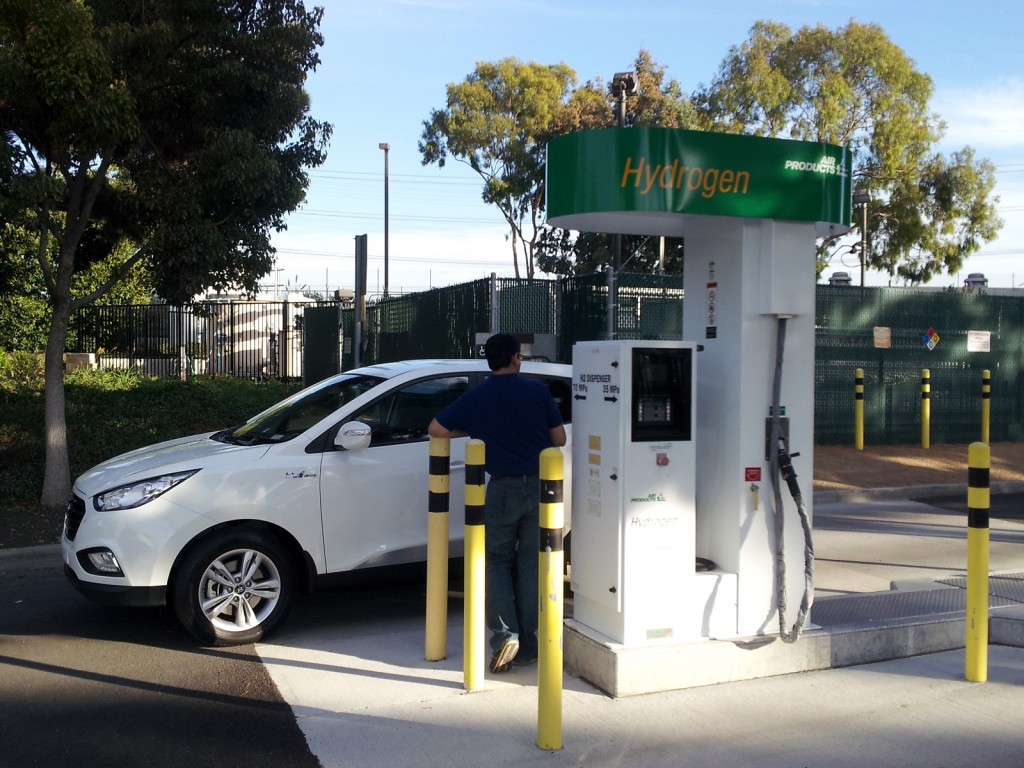 2015 Hyundai Tucson Fuel Cell at hydrogen fueling station, Fountain Valley, CA
Hyundai offers the Tucson Fuel Cell in the U.S. only for lease; the price is currently $499 a month for 36 months. Free hydrogen fuel is included.
In February, Hyundai cut the price of its fuel-cell car in South Korea from 150 million won (about $138,000) to 85 million won (about $76,000).
However, the vehicle reportedly isn't eligible for government subsidies in the country, although battery-electric cars are.
MORE: Hyundai Tucson Fuel Cell Price Slashed In Korea; 200 Delivered Globally So Far
The Tucson Fuel Cell is about to share the market with the 2016 Toyota Mirai sedan, and a production fuel-cell car from Honda is expected next year as well.
It remains an open question whether the Japanese will have better luck in establishing hydrogen-fueled cars as the zero-emission vehicle technology of choice.
Japan's government is firmly behind hydrogen fuel-cell vehicles, unlike Korea's, and that country is likely to have a comprehensive network of fueling stations by 2020.
That's the year Japan will host the Olympics--and Toyota will heavily promote its Mirai in front of a huge global audience.
As with hybrid-electric vehicles in their early days, the numbers remain small as buyers take time to understand and digest the implications of a radical new powertrain.
Hybrids didn't require a separate network of gas stations, however, so the lessons that can be drawn from their rollout--which Toyota often cites--may be limited.
Meanwhile, Hyundai has now delivered more production fuel-cell vehicles to retail drivers than any other maker--Honda and Toyota included.
[hat tip: Matthew Klippenstein]
_______________________________________________