How much would you pay for a tired 1997 Chevrolet S-10 pickup, especially one of unknown condition? 
A quick look at auction site eBay tells us that at best, even a tidy example of would be worth little more than $1000. 
What if that truck happened to be powered by the same drivetrain that was found in the legendary all-electric EV1 that General Motors made between 1996 and 1999? 
Would you buy it? And how much would you pay?
Spotted for sale on a Government Liquidation auction website, this particular Chevy S-10 Electric pickup truck was one of 492 examples built by GM between 1997 and 1998.
Originally produced as a fleet-only vehicle, only 60 of the 492 S-10 pickups produced were sold by GM. The rest were leased to fleet customers and then crushed at the end of the lease, just like GM's ill-fated and much-missed two-seat EV1 electric car.
One of the lucky 60 to miss the crusher, this particular S-10 Electric was sold to the U.S. Government for $34,570 in 1997.
With just 13,633 miles on the odometer, a flat tire, several years of neglect and what we assume is a completely dead battery pack, the truck still managed to command a $4,000 winning bid. 
As Plug-in America's recent auction of a 2002 Toyota RAV4 EV (currently standing at $17,100 on eBay) has proven, older electric cars are still popular with fans.
But why did the electric equivalent of an old clunker command such a high price?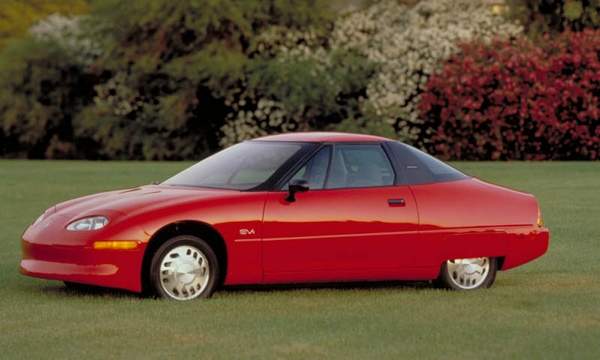 EV1.jpg
Because it shares most of the power electronics with the EV1, the Chevy S-10 electric pickup is an EV1 in disguise, although it has a lower top speed and can't travel as far as the EV1 could on a single charge.
Even if the truck itself is beyond economic repair, which we doubt, its 85-kilowatt AC motor and power electronics are a great starting point for any electric vehicle enthusiast trying to build their own electric car.  
Its electronics could even be used to help give life to a surviving EV1 sitting in a private collection or museum somewhere. 
Intentionally crippled by GM before they were giving to universities and museums, surviving examples of the EV1 are missing essential components needed to make them move. 
Each donated EV1 came with the understanding that they would never be reassembled as working factory-spec cars, but that hasn't stopped some custodians from doing so anyway. 
Will this particular Chevy S-10 pickup get resurrected, or will it become something else?  And would you pay $4,000 to own one?
Let us know in the Comments below. 
+++++++++++