Just before Nissan officially launched the all-electric Leaf hatchback, it came out with a dizzying list of simulated range predictions based on all kinds of road and weather conditions. 
According to Nissan's own computer-simulated calculations, the car's 24 kilowatt-hour battery pack could propel the car up to 138 miles in optimum conditions, or under 62 miles in worse-case scenarios. 
In the spirit of true investigative journalism, we decided to test winter range for ourselves, with a long evening rush-hour commute on a dreary December day. 
Our car for the test was a 2011 European-specification Leaf we purchased in March this year. At the time of the test, our car had a little over 11,500 miles on the clock. 
Arriving at our recharge point -- a rapid DC charging stationed located at a U.K. Nissan Leaf dealer over 80 miles from our destination -- we charged our Leaf to 98 percent full. Then we left on our long-range winter test.
Leaving in the middle of a Friday evening rush-hour, our first ten miles or so consisted of slow-moving stop/start traffic on surface streets before we hit the freeway. An hour after leaving, we hit the freeway.  The outside temperature had dropped to 35 degrees Farenheit.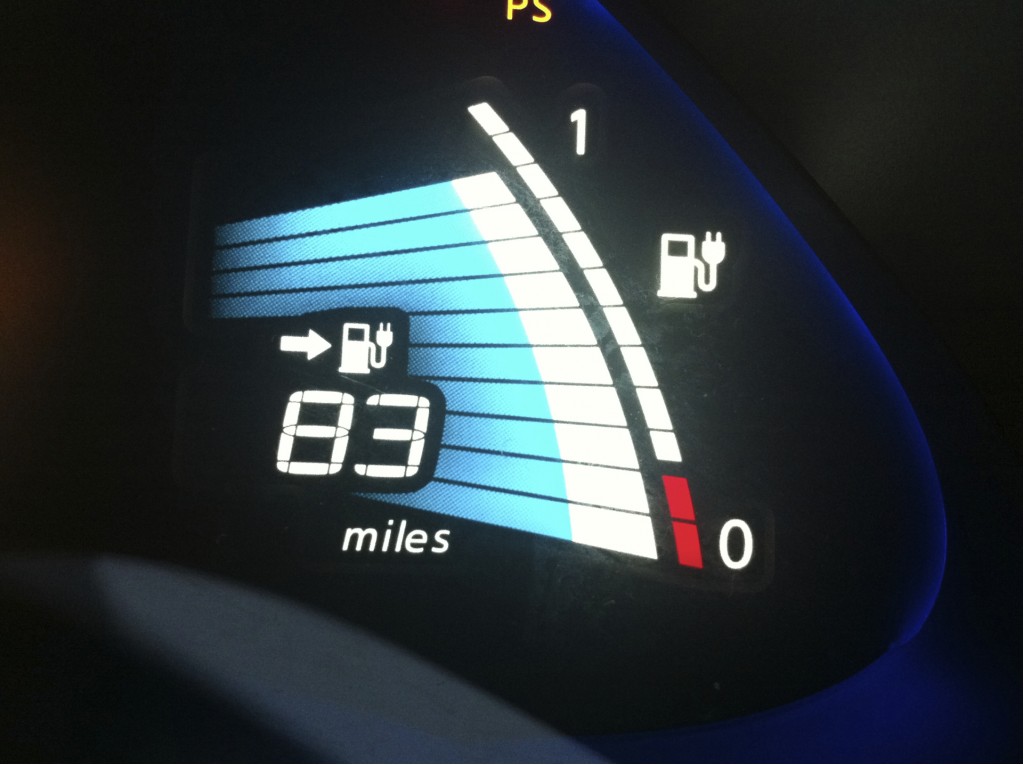 2011 Nissan Leaf State of Charge and Miles remaining
It wasn't just cold outside: the interior temperature of our Leaf was also pretty cold. On shorter trips, we would have used  the excellent on-board heater to keep the temperature a more comfortable 70 degrees, but given our destination was over 70 miles away, we refrained from doing so.  
Instead, we wrapped up, using the car's demist function only when absolutely necessary, and allowed ourselves the luxury of both satellite navigation, and the radio. 
Easing onto the freeway, and almost exclusively driving in the Leaf's ECO mode to help encourage us to use as little energy as possible, we kept the Leaf at an indicated speed of between 55 and 60 mph, depending on traffic flow. 
By the time we'd reached our potential emergency recharging point -- a freeway rest-stop equipped with a level 2 charger just 15 miles from our destination -- there were only two indicated bars left on the car's 12-segment state-of-charge display.
According to the car's notoriously poor range prediction software, we had enough range for anther 19 miles. 
Pushing on, and with outside temperatures now below freezing, temperatures inside our Leaf were far from pleasant. 
Fast Charging 2011 Nissan Leaf
With six miles to go, we pulled off the freeway. Our car predicted we had enough range for 5 miles of driving. Just as the car reached the bottom of the offramp, it gave its first low-battery warning, telling us it was close to running flat. 
Nursing our car along on surface streets at around 30 mph, the car gave us its second low battery warning message a few hundred yards from our destination. By this point, the car had stopped trying to predict range -- an indication it was perilously close to itsTurtle mode in which power is restricted in order to prevent an almost empty battery. 
Pulling up at our charging station, the dash recorded a total of 81 miles since we had recharged the car. We'd arrived, and the car hadn't entered Turtle mode. 
Logging onto Nissan's Carwings Portal, we noted the car reported a battery capacity of 0 percent. It estimated the car could drive an additional 2 miles before running out of charge altogether. 
We'd made it.
We've proven it is possible to drive a Nissan Leaf 80 miles in freezing conditions at mostly freeway speeds, but only if you don't use the on-board heater. 
Using our own experience, we estimate that keeping our car's cabin at a toasty 70 degrees would have cost us around 25 miles in range, requiring a mid-trip recharge. 
If you're planning a winter trip in your Leaf, we'd advise you plan a recharge stop every 50 miles if you want to stay warm and make good progress.  
But if cold weather doesn't faze you, it's possible in moderately cold weather to travel well beyond the EPA's official 73 mile range estimation. 
+++++++++++