In the last nine months, we've seen over 10,000 plug-in cars sold in the U.S. alone, with Nissan taking the lion's share of new plug-in car sales with its 2011/12 Nissan Leaf. 
Mass-produced electric cars still very much a niche market, so anyone buying one can be legitimately thought of as an early adopter -- but which cars are being traded in by those early adopters to make way for a plug-in car?
According to information obtained by The LATimes from automotive research firm R.L. Polk & Co., the most common car traded in for a plug-in car is the Toyota Prius. 
According to data, 7% of all Volt sales involved a Prius part-exchange, while 18% of all Leaf buyers were making the switch from Prius to Leaf. 
For owners of the second generation Toyota Prius, the Chevrolet Volt is a logical progression. Driving like a hybrid when its battery pack is depleted, the Volt offers extended range operation but also offers the around-town electric mode that Prius owners have come to love.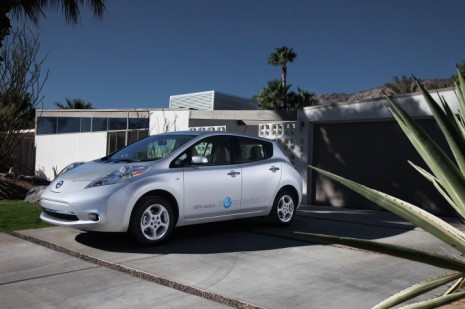 2011 Nissan Leaf
For those switching to the Leaf, the switch is even more logical. The Leaf looks similar to the Prius, and offers a similar level of trim, driving feel and steering response to its green Japanese rival.
But while many plug-in sales are including a Toyota Prius trade-in, other cars are getting traded in too.
According to R.L.Polk & Co., an unusually high number of German cars were traded in during the first six months of the year for a 2011 Chevrolet Volt. Cars like the Audi A4, BMW 3-Series and Volkswagen Jetta represented 6% of all trade-in cars. 
But owners of the Nissan Leaf were more likely to trade in a used Toyota -- and not just a hybrid Toyota -- for their new electric hatchback.  In the same period of time, 38% of all trade-ins for the 2011 Nissan Leaf were from Toyota owners. 
2008 Toyota Prius
Perhaps the most interesting data comes from the statistics surrounding brand loyalty. Of those buying a new plug-in car during the first six months of 2011, a massive 90% of all Nissan Leaf buyers were new to the brand, while 78% of Chevrolet Volt buyers had not owned a Chevy before. 
Although these figures do make for interesting reading, it's important to remember that plug-in vehicle sales still represent a tiny fraction of all new car sales in the U.S. 
And with most new plug-in car sales to date coming from early adopters and fans of plug-in cars, we don't think there is enough data yet to draw any firm conclusions about Leaf or Volt buyers. 
+++++++++++