The 2011 Nissan Leaf has now been for sale in certain U.S. markets for nine months -- just long enough for the accessories and aftermarket market to catch up and offer everything from custom wheels to body kits for Nissan's first all-electric hatchback.  
We've already covered fan-run projects to reduce charging time and improve the Leaf's range calculations -- but what about other accessories and modifications can you add to your Leaf to make your daily life that little better? 
Here's our top five accessories and modifications we think no Nissan Leaf owner should be without. 
Apple iPhone or Android smartphone
Carwings -- Nissan's on-board telecommunications system for the Leaf -- contains an onboard GPRS modem to enable you to remotely check the car's state-of-charge, set remote cabin heating and even set its GPS unit to a new destination. 
But while you can visit the Carwings website to control your car from any modern Internet browser, we think the best way of keeping tabs on your Leaf is via the free iPhone and Android smartphone applications. 
Easy to use, and always in your pocket, it helps make sure you never have to worry about range anxiety -- or getting into a cold car -- ever again. 
Tinted windows
No -- tinted windows aren't just for drug-dealers, movie stars and members of the mafia -- they can help reflect some of the sun's heat to keep your car cool in hot weather. 
Keeping the interior cooler helps reduce the need to use the Leaf's air-conditioning. In turn, of course, that will improve your car's range. 
And of you've got a young family or pets, it also reduces glare and helps them sleep more easily in the car. 
Although the European specification Nissan Leaf comes complete with a moderate tint on the rear windows and hatch, the U.S. specification Leaf doesn't. 
This is because certain states prohibit the use of window tinting if it means traffic cops can't look into the car from outside -- so if you do want to tint your Leaf's rear windows be sure to double-check the tint won't cause you to fall foul of any local legislation. 
Get horny
Forgive us for saying so, but the 2011 Nissan Leaf doesn't have a particularly loud -- or impressive horn. 
If you're the kind of person who doesn't mind a little DIY, a more effective horn can be placed from any local auto supplier, and switched out for your Leaf's rather effeminate one. 
If you're interested, be sure to check local law to make sure you're not violating any code -- and follow this informative instructional on how to do the upgrade for yourself.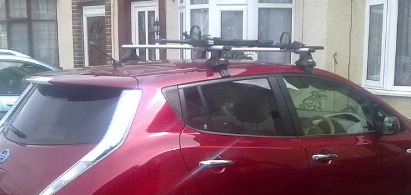 Nissan Leaf Roof Rack
Roof rack
While the 2011 Nissan Leaf wasn't designed as towing car, it can take lightweight items like bicycles and canoes with properly fitted roof bars. 
Yakima already stocks a complete set of roof racks and accessories to cover carrying a wide range of things on the roof of your Leaf -- but be warned, adding a roof rack will certainly increase aerodynamic drag and dramatically decrease your car's range. 
But if you're heading out for a weekend trip into the country with your Leaf, a removable roof rack might just give you that extra luggage space you need.
Cargo organizer
While we love the 2011 Nissan Leaf's deep load bay, it isn't shaped in a particularly practical way -- especially if you like carrying around cables for convenience charging. 
The large hump towards the rear of the load bay -- where the charger is located -- doesn't help matters either, making the load bay floor anything but flat. 
The only official accessory we've got in this list, the load bay floor organizer effectively gives the Nissan Leaf a raised floor, complete with under-floor storage for nicknacks that shouldn't be cluttering your trunk. 
Got any others?
If you've found a good aftermarket accessory for your 2011 Nissan Leaf, why not let us know in the Comments below.
+++++++++++