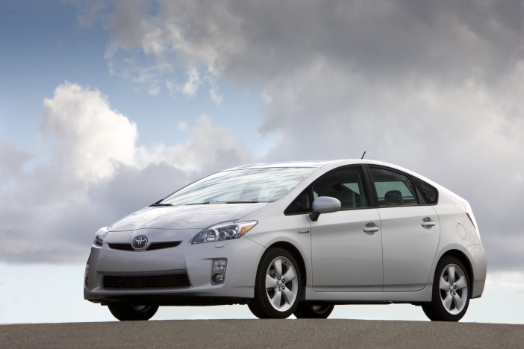 2010 Toyota Prius
Toyota announced the marketing theme for the new 2010 Toyota Prius today: "Harmony Between Man, Nature And Machine".
Highlighting the car's latest features, the campaign paints the Prius as offering what buyers want--advanced technology, more power, interior space, safety, and the magic 50-MPG figure--while simultaneously giving nature what it wants: lower tailpipe emissions.
Veering dangerously close to hyperbole, the press release summarizes: For the first time, a car company has struck a balance between the needs of man and nature--by building the third-generation Prius.
As usual these days, the fully integrated marketing effort includes traditional media (you know, TV ads), deep social networking, and physical installations. The TV ads, the company promises vaguely, will "employ a visual technique never before seen in the U.S."
As best we can tell, this "cinematic technique to depict the harmony between man, nature and machine" uses "people moving in unison" to depict "a utopian landscape...made entirely out of people--the sun, clouds and even blades of grass." Hmmmm. Trippy!
[UPDATE: We've now added a YouTube clip of one of the 30-second commercials. Wow. Those look expensive to make! But, kinda cool ...]
2010 Toyota Prius solar moonroof
Still, it's the "harmony installations," set to travel to half-a-dozen large cities, that we're most eager to see:
- Oversized flower sculptures in public parks that offer seats, recharging points, and free WiFi access.
- Bus shelters with ventilation provided by photovoltaic solar panels, just like the 2010 Toyota Prius solar moonroof option
And "Floralscape" billboards made of living flowers will bloom alongside selected California highways.
So, we've got electronic gadgets + flowers + solar power. Throw in a nickel-metal-hydride battery pack or two, and it sure sounds like the 2010 Toyota Prius to us.
[SOURCE: Toyota PR]