On Saturday, tens of thousands of people joined a Science March in Washington, D.C., to support use of data-based science to set government policy on climate change.
The day before, the U.S. Environmental Protection Agency removed detailed climate data and scientific information because it appeared to conflict with the "beliefs" of the Trump Administration and EPA administrator Scott Pruitt.
"Our website needs to reflect the views of the leadership of the agency," said an agency spokesperson, referring to the deleted information on climate science as "outdated language."
DON'T MISS: Trump's EPA deletes 'science' from Science Office mission statement
The removal of the climate-science information was personally approved by administrator Pruitt, according to a detailed account in The Washington Post.
Pruitt is a denier of accepted climate science who sued the agency he now runs more than a dozen times while he was attorney general of Oklahoma to prevent it from enforcing emission limits on the state's powerful fossil-fuel extraction industry.
He also copied and pasted language provided by fossil-fuel companies and submitted it as official state policy in documents supporting the state's efforts to overturn EPA regulations.
Oklahoma attorney general Scott Pruitt, 2014
The EPA page on climate change—updated numerous times over more than 20 years as climate science research grew—now redirects to a notice saying, "This page is being updated.".
That page contains the following language and links:
Thank you for your interest in this topic. We are currently updating our website to reflect EPA's priorities under the leadership of President Trump and Administrator Pruitt.
If you're looking for an archived version of this page, you can find it on the January 19 snapshot.
Here's what our Public Affairs Office released about these changes.
The linked statement from the agency's public affairs office noted that a screenshot of the prior approach would remain, to "comply with agency ethics and legal guidance, including the use of proper archiving procedures."
It said the changes were part of a comprehensive process to update all agency websites that would be "updating language to reflect the approach of new leadership."
Smog over Louisville, 1972 [From EPA Documerica series]
Science contradicts Pruitt
As the Post notes, some of the pages that were removed directly contradicted public statements by Pruitt.
Those included numerous cases in which he claimed that while climate change may be real, the contribution of human emissions of carbon dioxide into the atmosphere to that change were unclear and in dispute.
That is not the scientific consensus, nor is that belief used to make policy in any other country.
EPA website redirect page replaces scientific information on climate change, April 30, 2017
The EPA had previously rewritten the mission statement of its Science and Technology Office to eliminate the word "science" for the first time in 45 years.
Instead, the mission statement now says the EPA develops "economically and technologically achievable standards."
Scientists restricted, budget slashed

Further, internal changes to the composition of an agency science advisory board under Pruitt made it far harder for qualified scientists and researchers to be appointed, while imposing no similar restrictions on industry participants and lobbyists.
Overall, the EPA has received some of the most severe cuts in funding under the president's proposed budget.
The Trump budget would slash dozens of agency programs and thousands of staff, especially in the areas of enforcement of existing regulations.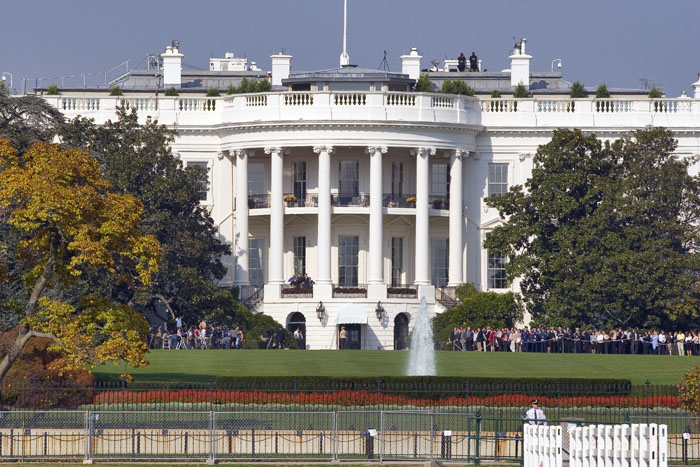 The White House, Washington, D.C. [Creative Commons license by dcjohn]
It supports the president's stated view that climate change is not real but a Chinese fabrication to hurt the U.S. while vowing to eradicate all vestiges of President Obama's initiatives to limit climate-change emissions.
Trump has also referred to climate change using a bovine-excrement epithet, and he claims he will "bring back coal," a goal widely assessed to be an economic impossibility that will only stoke false hope among coal miners despite minimal likelihood of coming to pass.
The administration's approach to climate policy remains somewhat in disarray, however, amid reports of internal battles over whether to withdraw from the Paris Climate Agreement the U.S. signed last fall.
Withdrawing from the pact would take three years, and numerous large corporations have urged the administration not to do so.
EPA administrator Pruitt, however, appears to be moving forward in his attempt to recast the agency charged with protecting U.S. air, water, and land from pollution.
Some crowd estimates of the Science March, however, reached as high as 200,000 protesters—which may indicate that despite the views of the current administration, climate science still has some supporters.
Green Car Reports respectfully reminds its readers that the scientific validity of climate change is not a topic for debate in our comments. We ask that any comments by climate-change denialists be flagged for moderation. Thank you in advance for helping us keep our comments on topic, civil, respectful, and fact-based.
_______________________________________