Ford has made lots of changes to its model lineup of late, some of them remarkably quickly.
Now comes word that the new Ford Escape compact crossover for 2013 may not include the Escape Hybrid model it has sold since 2004.
We think that would be a terrible shame, because it takes off the market a unique vehicle: the only affordable hybrid crossover with mechanical all-wheel-drive.
Vertrek previews new Escape
2011 Ford Vertrek concept
The report was published by FordInsideNews, a website that follows Ford news, as part of a much larger rundown of what it says are Ford's latest product plans for the next 18 months.
The all-new 2013 Escape model was previewed by the Vertrek concept shown at the Detroit Auto Show this past January, and will be built in Ford's Louisville assembly plant.
The same vehicle will be sold in European and Asian markets as the new version of the Ford Kuga crossover, previously a separate design from the Escape.
Escape Hybrid unique
But the report says that while the new Escape will gain the company's fuel-efficient 1.6-liter EcoBoost engine, it will lose its hybrid variant.
2011 Ford Escape Hybrid
We hope that's not true, simply because the current Escape Hybrid is the sole affordable, high-mileage hybrid vehicle sold anywhere with mechanical all-wheel-drive. As of the end of May, Ford had built almost 117,000 Escape Hybrids (and more than 12,000 similar Mercury Mariner Hybrids as well).
That means that all four wheels are powered by the combined torque of the engine and the electric motor-generators in the hybrid transmission, through a transfer case.
Both other all-wheel-drive hybrid crossovers now offered in the U.S.--the Toyota Highlander Hybrid and Lexus RX 450h crossovers--power the rear wheels solely with their own electric motor.
Losing rear power when you need it most
That's fine for light-duty suburban use, including slushy mall parking lots and muddy soccer fields. But it may not be sufficient for heavier all-wheel-drive demands, because the rear electric motor is designed to shut itself off if it senses it's overheating due to sustained heavy usage.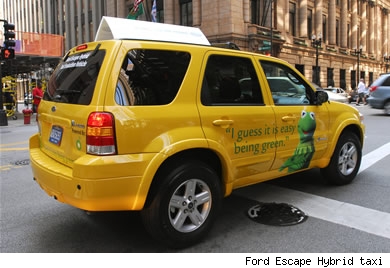 Ford Escape Hybrid Taxi
In other words, if you get stuck in deeper mud, or a sandpit, or even icy ruts--any situation that requires sustained power application to the right wheels, and rocking the vehicle back and forth--you run the risk that the drive on your rear wheels will cut out just when you need it most.
We presume the new Escape/Kuga will have traditional all-wheel-drive. But if the hybrid option vanishes, those wanting high mileage and real all-wheel-drive may be up a tree, so to speak.
[UPDATE: And there's clearly demand for all-wheel drive on the little hybrid crossover. According to Ford's George Pipas, almost half of Escape Hybrid buyers--47 percent, to be precise--specify the AWD option.]
Those demanding users include both police departments and taxi drivers across the country, who have proven the system's durability in Escape Hybrids that have racked up hundreds of thousands of trouble-free miles.
No compact AWD anywhere
The website says the Escape Hybrid's place in the Ford lineup will be taken by the C-Max compact minivan, which will be sold only in hybrid and plug-in hybrid models after Ford canceled plans to sell a 7-seat gasoline version in the U.S.
2009 Ford Escape Hybrid used by NYPD traffic unit, by Samuel Smith from NYCPDcars.50webs.com
Ford is smart to offer a dedicated hybrid vehicle. But the C-Max doesn't offer all-wheel-drive, either in Europe or here. In fact, so far, not a single Ford compact model (built on its "global C-platform") has an all-wheel-drive option, including the high-volume 2012 Ford Focus.
Worse yet, persistent rumors of a sporty Focus RS model to come in the future suggest that its all-wheel-drive system would use a rear-axle electric motor too--meaning mechanical AWD is deeply unlikely on any future Ford compact.
So what's an AWD hybrid enthusiast to do if the Escape Hybrid, starting at $30,570, goes away?
2010 Subaru Forester
Subaru to the rescue?
You could always go bigger and pricier.
The 2011 Chevrolet Tahoe Hybrid is a bargain at $51,145, versus its ultra-luxe sibling the 2011 Cadillac Escalade Hybrid ($74,135). Those are both truck-based, full-size sport utility vehicles weighing the better part of 3 tons.
Then there's the 2011 Volkswagen Touareg Hybrid at $60,565, or its sibling the 2011 Porsche Cayenne S Hybrid, starting at $69,000. They're crossovers--at a price that's likely beyond many family budgets.
But there may be a simple and much cheaper answer: Wait for the arrival of the Subaru Forester Hybrid, scheduled for 2013 or so. We're fairly certain Subaru won't sacrifice its Symmetrical AWD system just to offer a hybrid powertrain. It even sort of looks like the current Escape.
Ford: You have been warned. The sector is yours to lose.
+++++++++++