The revised Clean Vehicle Credit that was enacted last August as part of the Inflation Reduction Act immediately shifted to apply solely to American-made electric vehicles. 
That may have been easy enough to understand, but the law also introduced new critical mineral and battery component requirements, and it's going to require paying attention to information that may not entirely be discernible from info on the window sticker. 
The Department of Treasury just on March 31 posted guidance on the origin of battery materials, which will determine under the new rules whether buyers will be able to claim $3,750 or $7,500. That goes into effect April 18—yes, tomorrow—but the government has only today published an initial list of what does and what doesn't qualify for the full amount. 
As officials anticipated with the reveal of the guidance, the tax credit amounts for many American-made EVs will drop April 18, although as automakers adjust their supply chains in response, the list will keep growing from this minimal state. 
Where can you check EV tax credit status?
A tax credit page at the EPA's consumer-facing website, FuelEconomy.gov, will function as a go-to for shoppers, both in checking which category vehicles fall under and in seeing what they qualify for.
2023 Ford F-150 Lightning
Tax-credit rules for income and price
Before considering a vehicle under these new rules, keep in mind that you'll need to meet new requirements for income, as well as price caps on the vehicles themselves. The credit now only applies with an adjusted gross income limitation of $300,000 for married couples filing jointly, $225,000 for head of household, or $150,000 for other filers. 
Regarding the vehicle price caps, the new credit sets price limits of $55,000 for new cars and $80,000 for pickup trucks, SUVs, and vans. After some initial confusion over what constituted a car vs. an SUV, the Treasury Department clarified the electric SUV list in February. 
EVs and some plug-in hybrids purchased from August 16, 2022 through the end of 2022 qualified for the full $7,500 tax credit amount if they undergo final assembly in North America (including Canada and Mexico). At the start of 2023 those new requirements for income and vehicle price caps went into effect.
2023 Tesla Model X - Courtesy of Tesla, Inc.
What if you already paid for the EV?
As the IRS reminded shoppers Monday, the new battery requirements apply to when the vehicle was placed in service, not when it was ordered or purchased. So if you ordered a vehicle not on this list months ago but still haven't taken delivery, your tax-credit ship has sailed.
One final note: This all applies to purchases, but the rules are different for leases. Those with higher household income looking at higher-priced EVs—even those made overseas—may still be able to take advantage of a different spin on the $7,500 EV tax credit in lease form. 
Which models qualify for the tax credit?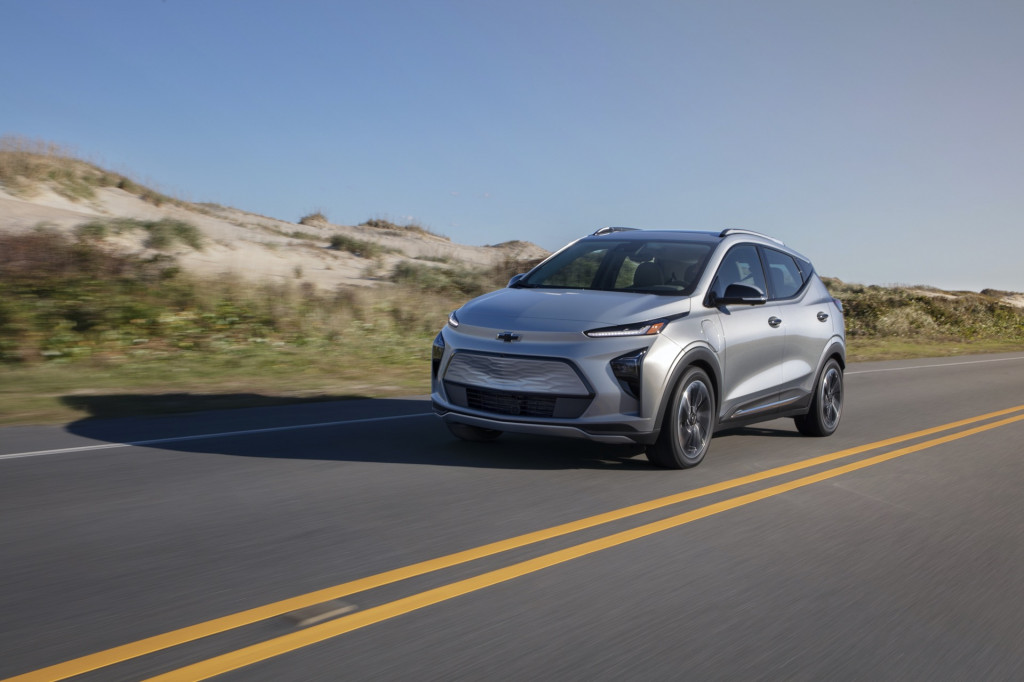 2022 Chevrolet Bolt EUV
Ahead of the new rules going into effect tomorrow, April 18, here's the complete list of vehicles currently qualifying for the $7,500 tax credit amount on purchases: 
2023-2024 Cadillac Lyriq
2024 Chevrolet Blazer EV
2022-2023 Chevrolet Bolt EV
2022-2023 Chevrolet Bolt EUV
2024 Chevrolet Equinox EV
2024 Chevrolet Silverado EV
2022-2023 Chrysler Pacifica Hybrid
2022-2023 Ford F-150 Lightning (Standard and Extended Range)
2022-2023 Lincoln Aviator Grand Touring (PHEV)
2023 Rivian R1S
2023 Rivian R1T
2022-2023 Tesla Model 3 Performance
2022-2023 Tesla Model Y All-Wheel Drive
2023 Volkswagen ID.4 (all versions)
2023 Ford Mustang Mach-E
And these are the models qualifying for $3,750:
2022-2023 Ford E-Transit
2022-2023 Ford Escape Plug-In Hybrid
2022-2023 Ford Mustang Mach-E (Standard and Extended Range)
2022-2023 Jeep Grand Cherokee 4xe
2022-2023 Jeep Wrangler 4xe
2022-2023 Lincoln Corsair Grand Touring (PHEV)
2022-2023 Tesla Model 3 Standard Range
--
UPDATED April 19 to include the addition of Rivian R1S, Rivian R1T, and VW ID.4 to the list.