Yesterday, U.S. president Donald J. Trump signed an executive order to begin the process of rolling back pretty much every vestige of U.S. efforts to address climate change.
In both his campaigning and since his inauguration, Trump has claimed that his government and its actions focus on creating or bringing back jobs for working-class Americans.
What the president has apparently overlooked in his latest actions is that the clean-energy industry already accounts for far more U.S. jobs than does the fossil-fuel sector.
DON'T MISS: Trump Administration goal: undo every climate-change effort
That little-known fact is based on a review of U.S. Department of Energy's own jobs data for the energy sector.
It was brought to public attention in a Sierra Club report that shows jobs in the clean-energy industries outnumber those associated with fossil fuels by roughly 2.5 to 1.
Trump has promised to "bring back coal" and its associated jobs—a goal virtually every energy analyst says is simply unattainable—but that sector fares even worse.
Coal, by Flicker user oatsy40 (Used Under CC License)
The substantial and rising cost advantages of fracked natural gas, along with cheaper coal production associated with largely automated "mountain stripping" (ahem), have decimated employment in the coal mining industry over the last decade.
U.S. coal production last year fell to its lowest level in four decades, and since 2011, the domestic coal-mining industry has fallen from 137,000 jobs to just 77,000 miners (not including office workers at mining companies).
The Sierra Club notes that jobs in the coal and natural-gas sectors, added together, are outnumbered by those in clean energy by about 5 to 1.
CHECK OUT: Bipartisan governors' group urges Trump to back solar, wind power
The environmental group's summary of its conclusions on clean-energy jobs notes that the sector includes not only solar and wind, but also energy efficiency, smart-grid technology, and the growing battery-storage sector.
Fossil-fuel jobs in coal, oil, and gas include the electricity generating and utility sector, mining, and other U.S. fossil-fuel extraction and transportation activities.
The EPA had previously reopened the comment period on its vehicle-emission limits for 2022 through 2025 model-year cars.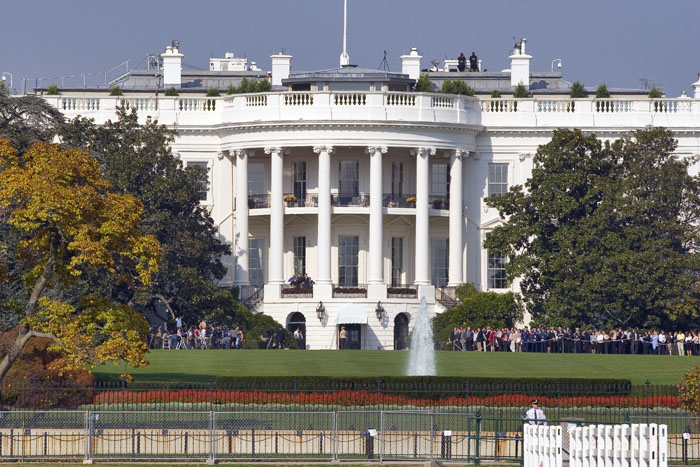 The White House, Washington, D.C. [Creative Commons license by dcjohn]
The agency had finalized those rules in the waning days of the Obama administration, cutting short the period for public comment and industry input more than a year ahead of schedule.
Trump's action yesterday directed the EPA to review its Clean Power Plan, which directed each state to create a plan to cut carbon emissions from its electricity-generating sector.
The rules were designed to incentivize states to create locally specific plans that best met their mix of conditions, though if states declined to do so, the EPA itself would create a plan itself for that state.
Last year, 24 states—largely those with the dirtiest and most coal-intensive grid mixes—sued the administration to prevent the plan from taking effect.
Among those states was Oklahoma, under its then-attorney general Scott Pruitt, who now runs the EPA.
Oklahoma attorney general Scott Pruitt, 2014
Pruitt, who denies the accepted science of climate change, sued the EPA more than a dozen times to prevent it from enforcing emission limits on Oklahoma's influential fossil-fuel extraction industry.
Trump also signed an executive order to rescind EPA rules limiting mining companies' ability to dump coal wastes into streams.
Green Car Reports respectfully reminds its readers that the scientific validity of climate change is not a topic for debate in our comments. We ask that any comments that deny the accepted scientific consensus on climate change be flagged for moderation. Thank you in advance for helping us keep our comments on topic, civil, respectful, family-friendly, and fact-based.
_______________________________________