More than nine months after the Volkswagen diesel scandal first came to light, VW and the EPA have agreed on a proposed final settlement for 482,000 cars with illegal "defeat device" software.
That settlement includes cash payments for the owners of affected Audi and VW 2.0-liter TDI models—whether they decide to keep their cars or not.
Volkswagen will also offer to buy cars back, but owners will still get restitution payments even if they retain their cars in hopes that they can be modified to meet emissions standards.
MORE: VW diesel settlement details: buybacks, payments, modifications, fines, more
Both the buyback and restitution payments will vary for each affected car, depending on the model, its age, and other variables.
The 225-page proposed settlement includes tables showing what VW and Audi owners can expect to pay, helpfully uncovered by The Truth About Cars.
The tables—also available on the U.S. District Court Northern District of California website—break down the payments by model year, covering both the buyback values and the restitution payments.
2015 Volkswagen Golf TDI
No modifications yet approved
The vehicles using various 2.0-liter TDI turbodiesel engines affected by the settlement are:
2015 VW Golf TDI, Golf SportWagen TDI
2015 Audi A3 TDI
2015 VW Jetta TDI, Passat TDI, Beetle TDI
2012-2014 VW Passat TDI
2009-2014 VW Jetta TDI, Jetta SportWagen TDI
2010-2013 VW Golf TDI
2012-2014 VW Beetle TDI
2009-2013 Audi A3 TDI
Owners who opt for emissions modifications will receive a minimum payment of $5,100, regardless of what vehicle they have.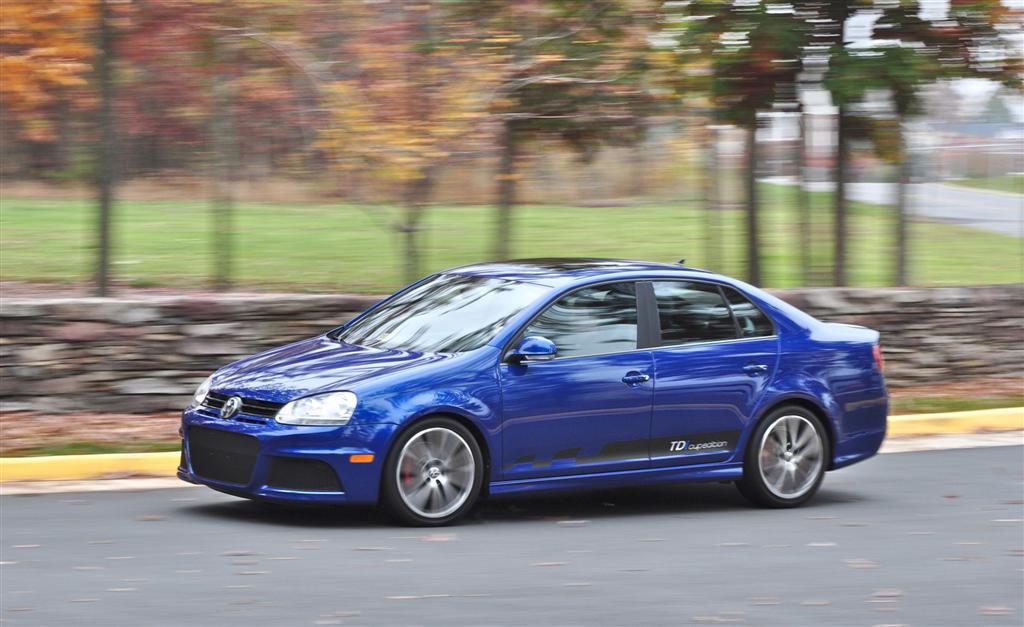 Volkswagen Jetta TDI Cup Street Hitting Dealerships Soon
Note that Volkswagen, the EPA, and the California Air Resources Board (CARB) have not agreed on any approved modifications for the 2.0-liter TDI cars. It is unclear when—or even if—owners will be able to have their cars modified.
The amounts of payments for specific cars are determined using the "clean trade value" specified by the National Automobile Dealers Association in its Used Car Guide from September 2015, when news of the VW diesel scandal broke.
Payments for cars that will also be modified to meet emissions standards are determined by taking 20 percent of that NADA value, and adding $2,986.73.
The amounts for buybacks are calculated by taking the full September 2015 NADA value, and adding the amount of restitution payments owners would be entitled to if they had kept their cars.
However, the NADA "clean trade value" assumes cars accrue 12,500 miles per year, or 1,042 miles per month.
2010 Audi A3 TDI
Owners will have to calculate the mileage their vehicles had in September 2015 and account for mileage over the NADA average.
Mileage-adjustment tables provided by the Federal Trade Commission can help with this.
What if I bought after September 18?
If the vehicle changed hands after September 18, 2015, payments are essentially split between the current owner and the person who held the title before that date.
That means each party gets a buyback payment of 10 percent of the vehicle's value, plus $1,493.37, plus the value of the restitution payment, which will be no less than $2,550.
Current and former lessees will be eligible for payments equal to 10 percent of the vehicle's value plus $1,529.01, and will have the option to get their leases terminated at no cost.
2014 Volkswagen Beetle TDI
An automated online tool to calculate payments for specific vehicles by VIN will become available once the settlement is finalized.
That is expected to occur at a hearing on July 26, after which Volkswagen will begin contacting owners about buybacks, restitution payments, and any approved modifications.
The carmaker expects to start sending out payments, and possibly modifying some vehicles, this fall.
_______________________________________________