Denise Gray, CEO of LG Chem Power Inc.
Denise Gray is used to challenges in her career, generally over new technologies.
As a young engineer at GM, she first designed electrical components, then got her first major managerial role on the team to develop what became the 1997 Corvette.
She was given the responsibility of introducing and enforcing modern software-testing and approval protocols for the electronic powertrain control systems.
That led to an expanded role ensuring that all powertrain projects throughout General Motors used suitably rigorous use-case and testing protocols.
CHECK OUT: LG Chem To Become World's Biggest Electric-Car Battery Supplier? Could Be, Report Says (Aug 2015)
Eight years ago, Gray was designated to run the GM battery testing and validation lab that would assess lithium-ion cells for the 2011 Chevrolet Volt range-extended electric car.
Gray left GM in 2010, before the Volt launched, to work for startup battery-pack supplier Atieva, in Silicon Valley. Then she spent some time in Europe running the electrified powertrain group at supplier AVL.
As of last September, however, she's back in Detroit--as CEO of LG Chem Power, the U.S. arm of the large and influential Korean battery cell and pack supplier.
Unlike Panasonic and AESC, which are tied exclusively to Tesla Motors and the Renault-Nissan alliance respectively, LG Chem supplies literally dozens of vehicle makers around the world.
2011 Chevrolet Volt
With intimate knowledge of the cell chemistries and production facilities for electrified vehicles all over the world, Gray is almost uniquely positioned to comment on the industry.
This reporter first interviewed Gray almost a decade ago, in her role as leader of the Volt battery lab--even before GM's bankruptcy and government-backed restructuring.
Green Car Reports sat down with her at last month's Detroit Auto Show to catch up on eight years of electric-car progress and learn more about LG Chem.
Gray has always been discreet, and no breaking news came out of the discussion. Instead, she shared how she sees the plug-in world playing out from the LG unit that could become the highest-volume cell supplier to the world's auto industry.
ALSO SEE: Why LG Chem Leads In Electric-Car Batteries: Materials Science, It Says (May 2015)
What follows is a condensed and edited version of that 90-minute interview.
Q: What did you take away from being inside the development team for the first-generation Volt?
A: It was great fun! It was like a startup inside the company. We had unparalleled access to executives at the highest levels; they shared the risk and the decision-making with the team.
Denise Gray, director of global battery systems engineering, General Motors
And those decisions were quick.
For me, it was a great opportunity to see how company leaders thought, how they approached solving problems.
Even before the 2011 Volt was released, the team for the second-generation car had been established--with a goal of cutting the battery cost in half.
It had different people, and it was in a different location than the existing Volt team. But we could see, even then, the roadmap to get from 2010 costs to 2015 costs--and that it was possible.
The goals for the Generation 1 Volt were robustness first, and cost second--to get it out in time. The second generation had to be equally robust, but it also had to meet its cost targets.
Question: What did you learn in your time at Atieva and then AVL?
Answer: I was able to interface with all the other carmakers--and get some validation from the industry for the work we did on the Volt as well.
We'd hear, "Great car, and a great battery."
DON'T MISS: Battery Maker LG Chem: Biggest Electric-Car Winner Of All? (Aug 2014)
It was the right time for me to do a startup, after spending my entire career with General Motors. It was then or never.
I learned about venture capital, and spent a lot of time on products mainly focused on Chinese carmakers and the market in China. We had manufacturing in Shanghai, and engineering support in Taiwan as well.
Chevrolet Sail Electric Concept Vehicle
Even at GM, there was an awareness that China would move from a niche market to the mainstream for electrified vehicles. And I had the U.S. experience from the Volt.
So I was able to learn about doing business in China, and learn more and faster doing it for a Chinese company.
I learned that expectations for Tier 1 suppliers are different there. In North America, Tier 1 suppliers know the industry and its requirements deeply, and they can help figure out design requirements.
There, they simply build to the plan, with contract manufacturers--the carmaker does all the engineering, even makes the decision on when the supplier's plant goes into production.
Denise Gray, CEO of LG Chem Power Inc.
AVL, on the other hand, was a family-held company that provided test systems and engine designs to many different automakers--but they had no experience in electrification.
I led their global business unit for electrification--which had 56 locations, one per automaker worldwide. I talked to all of them, and logged 200,000 miles of travel one year.
I knew all the cell suppliers, and we could be a neutral adviser on 12-Volt, 48-Volt, full electrification, fuel-cell vehicles, all of it. We offered unbiased opinions on how they could meet their goals. Our goal was to make our clients happy.
But still, the major portion of the company's revenue came from consulting on engine and transmission combinations.
Q: What drew you to this new position?

A: In 2006, when the company began to speak with GM about the Volt program, it was clear even then that LG Chem was in it for the long haul.
This was a consumer electronics company that intended to become a top Tier 1 supplier to the auto industry.
GO BACK IN TIME: Denise Gray: Battery Czar (Jul 2008)
And the leadership in Seoul, along Prabhakar Patil (former LG Chem CEO, whom Gray succeeded) were committed to operating with high integrity.
I had known Patil for a long time. And this was a good time to come back to Michigan as well [for family reasons].
Mock-up of LG Chem battery for 2011 Chevrolet Volt
Q: What's next for LG Chem?

A: LG Chem is still moving forward, continuing to grow with the companies we support. That didn't change when I arrived.
We make decisions on a case-by-case basis about the source for our (high-value) electrode material.
For cells assembled at our plant in Holland, Michigan, today it comes from South Korea.
It's the next logical discussion to look at whether there is a business case to do it domestically. Will we see 200,000 vehicles' worth of cells here?
We have different cells optimized for different types of vehicles: hybrids, which use power cells, versus long-range electric cars, which need energy cells.
But we see the intersection of battery technology for autos and for grid stability as very interesting.
We're learning a lot from the experts in that field now, but we see compatibility--and overlapping engineering--in those two uses going forward.
We're going very fast in that area, with a business unit concentrating solely on it.
We see prices for automotive use benefiting from this new use, because energy storage will soar in coming years.
(Question: Would LG Chem ever consider doing its own car, since Samsung already sells vehicles under its own name in South Korea?)
[laughs] We have a lot of appreciation just for being a Tier 1 supplier--and for what it takes to create an entire vehicle.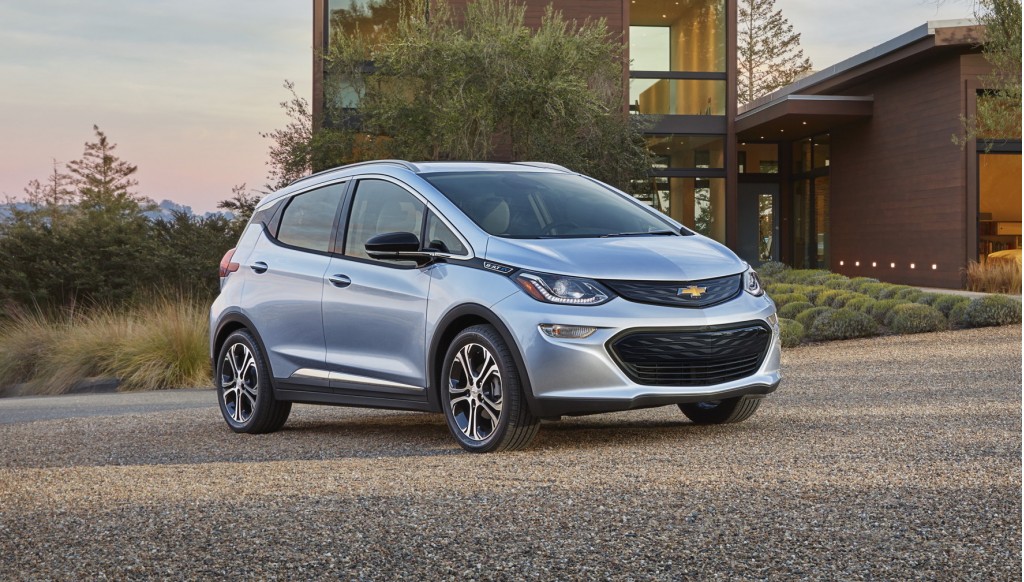 2017 Chevrolet Bolt EV
(Question: GM product chief Mark Reuss said he'll be paying $145 per kilowatt-hour for the cells going into Chevy Bolt EV the day it goes into production. Care to comment?)
Well, General Motors hasn't announced the cell supplier for the Bolt EV. But hearing something like that is bittersweet.
Carmakers have many reasons to do these kinds of things. [laughs] We don't typically publish those figures.
Q: What do you see in the future for electrified vehicles?

A: We have more options for electrification, including 48-Volt enhanced start-stop systems.
They have two advantages: first, more power for electric accessories and gadgets in the car--from heated seats to televisions.
Second, they make "start-stop-plus" systems more affordable, which helps with fuel economy rules.
Audi publicity image for Q6 all-electric SUV, which is to use cells from LG Chem and Samsung SDI
There will also be different approaches to tradeoffs in meeting durability and performance requirements: Do you do it in the cell itself, or in the battery-management system?
Battery-life requirements may be the biggest unknown: Do we always have to engineer for a 10-year warranty life, plus five more years for the car?
Because that costs a lot, and there would be a huge cost impact if we could only engineer for half the life of the car.
Forward compatibility for battery packs is always the intent of engineers on an electric-car program.
It's every engineer's dream to be able to put more people on solving those kinds of issues--but when hard decisions have to be made, sometimes that isn't prioritized.
_______________________________________