Being a Volkswagen executive these days may be one of the more thankless jobs in the auto industry.
Among groups including car buyers, business travelers, and environmental advocates, the first association with the brand now is often now "diesel emission scandal."
But differing customer outreach and occasionally combative statements between its German and U.S. arm have left owners, analysts, and regulators scratching their heads over Volkswagen's behavior and its inept crisis-management tactics.
DON'T MISS: VW Diesel Owners In Limbo Until Recall Issued, While Cars Lose Value
VW has now submitted plans for fixing its 2.0-liter TDI four-cylinder diesel cars to U.S. regulatory agencies.
Last Friday, the automaker delivered its proposal for fixing 482,000 four-cylinder diesel cars from model years 2009 through 2016 to the Environmental Protection Agency and the California Air Resources Board.
No details made public
Details of that plan, however, are being withheld from the public, the automaker told Edmunds.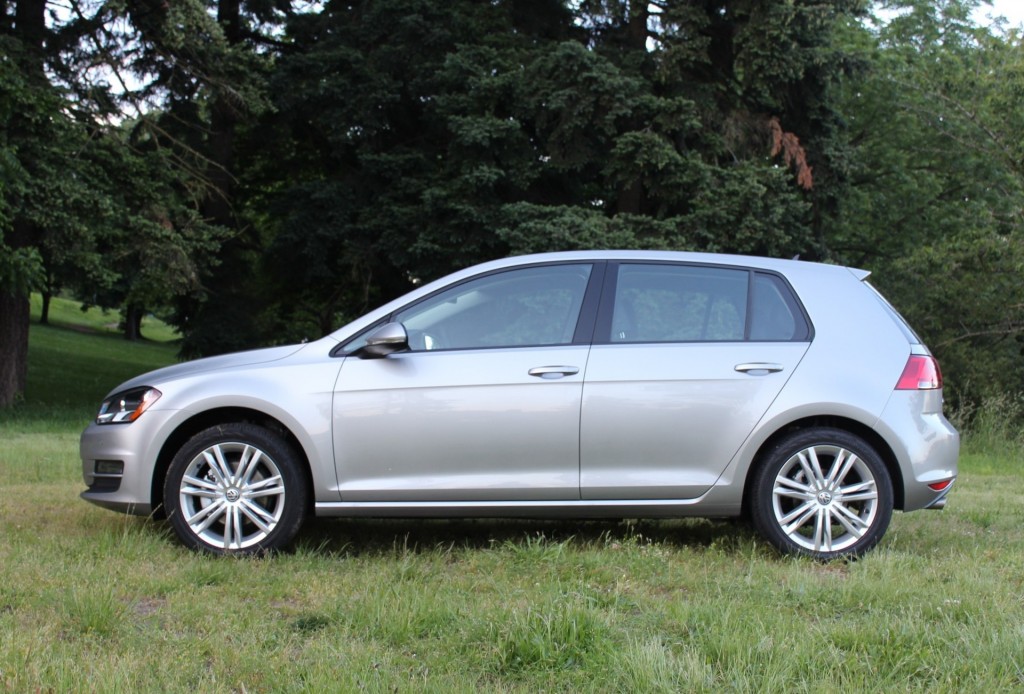 2015 Volkswagen Golf TDI SE
That leaves owners of the affected cars in a holding pattern until the two agencies have assessed the plan. It's also entirely possible they'll ask for changes to VW's proposal, which they'll then review again.
While Volkswagen met the last Friday's deadline to submit its plan--roughly two months after the scandal broke in September--no timetable has been released for approval of any plan and completion of recall work on the TDI cars.
Under the best possible circumstances, recalls that involve only software updates might begin sometime early next year and continue through the spring and summer.
ALSO SEE: How Will VW Fix My Diesel Car, And When? A List Of All Models

More complicated fixes, including component replacement, could take considerably longer, perhaps stretching into 2017. VW continues to stress that the cars remain safe to drive, and that owners should continue to do so.
Separately, German regulators have approved Volkswagen's proposed fixes for the 2.0-liter diesels in that country and, according to VW Group chairman Matthias Müller, given a "basic go" to its plan for 1.6-liter diesel fixes as well.
Plans for the smallest of the three TDI engines affected in the European Union, its 1.2-liter diesel, are still in process.
2015 Volkswagen Passat TDI
The fixes for the German diesels, however, will be far less challenging because EU emission standards are far less stringent than those in effect in the U.S. since 2008.
In a Monday speech at VW headquarters in Wolfsburg, Müller said "the solutions are confirmed" for most of the technical details of the three fixes. He called the costs of the German changes "technically, physically, and financially manageable."
The 2.0-liter engines in Germany will get a software update, while the 1.6-liter TDI four-cylinders will receive not only a software update but a new grille and cartridge for their air-filter system. The 1.2-liter engines are thought to require only a software update.
U.S. challenge far worse
The challenge in North America, however, is far greater than that of getting EU-market diesels to meet far more lax Euro 5 standards for cars sold through 2014.
It's possible that 325,000 of the 482,000 affected 2.0-liter diesels in the U.S. would need to have a Selective Catalytic Reduction system fitted, which comprises a new catalytic converter, a tank of urea liquid, and associated plumbing to inject the urea into the exhaust aftertreatment system.
Selective Catalytic Reduction (SCR) process for diesel exhaust aftertreatment [Diesel Tech Forum]
Such a change would likely cost several thousand dollars per car, suggesting that VW may be forced to buy back some or all of those vehicles.
Indeed, last week two U.S. Senators urged that the company do just that.
Buybacks urged already
Senators Edward Markey [D-MA] and Richard Blumenthal [D-CT] noted that the company's sole response to U.S. owners over two months has been a pair of $500 gift cards--one usable only at VW dealers--and expanded roadside assistance,
The senators called for VW Group of America to buy back all affected cars in a letter to U.S. CEO Michael Horn.
Michael Horn, CEO of Volkswagen Group of America, in 'Dieselgate' video
"We urge you to offer drivers the fair market value for these vehicles that was in place before VW's illegal activity was made publicly known," the pair wrote.
European VW owners are not being offered any such "goodwill" benefits, which alone could cost $8 billion for the more than 10 million diesel cars affected.
European and British consumer groups have recently issued recent statements slamming Volkswagen for keeping customers in those markets in the dark, and providing few updates beyond standardized corporate feel-good statements.
What is VW thinking?
Indeed, in the U.S. too, fully eight weeks after the scandal broke, VW has issued only a handful of statements—promising to get to the bottom of the deception even as new issues continue to come to light.
The company's reticence is not helping it with increasingly restive owners, let alone the rest of an industry shocked by the magnitude of the scandal and the decline in VW Group AG's stock price in the two months since September 18.
Volkswagen logo
That was the day when the EPA held a surprise press conference in which it said Volkswagen personnel had admitted to installing "defeat device" software in its 2.0-liter TDI diesel cars that bypassed emission controls in real-world driving.
That software detected when the car was undergoing emission testing, and fully utilitized all of the emission control systems only under those circumstances.
The results, as real-world testing showed, was that a variety of Volkswagen and Audi vehicles emitted 10 to 35 times the legal maximum levels of nitrogen oxides (NOx), a component of photochemical smog.
Incredible even today
The story remains incredible to the auto industry even today. It's hard to imagine that the world's largest auto company—not to mention Germany's largest industrial enterprise—would deliberately flout the laws of another country for eight years.
Since that day, VW has said that up to 11 million vehicles globally may contain the "defeat device" software, with 480,000 of those in the United States.
2014 Volkswagen Beetle TDI
It has also said it discovered "irregularities" in carbon-dioxide emission testing in 800,000 more vehicles in Europe—which remain unidentified—that could result in their emissions being higher and fuel economy lower than stated.
Yet the company's sole response to date to its affected U.S. TDI owners has been the goodwill offering: a $500 gift card, another $500 to use at any Volkswagen dealership, and free roadside assistance.
The key questions
Beyond that, the company has said little beyond a promise that it would investigate the incident fully and to punish the responsible parties.
And whether full transparency on the scope of the multi-year deception will ever be achieved remains seriously in doubt.
2014 Volkswagen Beetle TDI
The questions outstanding include:
Where did the "defeat device" software scheme originate?
How many VW executives knew of the deception?
Can VW actually make 325,000 of its U.S. TDI cars legal--or will they have to be bought back and crushed?
What is the full financial exposure among fixes, buybacks, and fines by dozens of regulatory bodies globally?
It's understandable that such investigations take time, and that VW is likely not able to discuss any remediation steps until they are approved by the various European and U.S. regulatory agencies.
But thus far, VW Group appears to have done the minimum possible outreach to the public--including its millions of TDI owners.
'Issues at the present time'
The diesel scandal was very much on the minds of reporters who attended Audi Future Performance Day, an advanced technology briefing for global media in Madrid, Spain, two weeks ago.
Volkswagen logo
The scandal was referred to only in passing by Audi executives. A phrase that seemed particularly elliptical was "the issues at the present time."
It's understandable that Audi, which had only one low-volume model (the 2009-2013 and 2015 A3) sold with the affected 2.0-liter TDI engines, wishes to distance itself from its VW parent.
But despite the goodwill offering last week, owners worldwide have no inkling of when or how VW plans to repair (or buy back) their cars.
Growing bafflement
Overall, the global business community is increasing baffled by VW's reticence in handling the crisis, just as it was three weeks ago when Volkswagen AG headquarters lashed out at EPA claims that its 3.0-liter V-6 TDI diesel engines had an unapproved emission control device as well.
The rules of crisis management and communications include:
Do not underestimate the severity of any situtaion; prepare for the worst
Take responsibility for the situation (which may differ from admitting liability)
Communicate directly to customers, officials, and the public, avoiding legalese where possible
High executives must be the public face of all communications
Speed of response is crucial; fast, effective communications are a must
Constant updates are vital, phrased in brief, informative, accurate, and consistent language
Thus far, it appears that Volkswagen is abjectly failing to apply the lessons learned by Exxon, Tylenol, and other companies surprised by serious, unexpected crises.
How and where this scandal will take us is anyone's guess.
But from this outlet's perspective, the sooner all parts of VW openly acknowledge the challenges—as U.S. CEO Michael Horn did just three days after it broke—the better it may go for the company in the long run.
[Audi provided airfare, lodging, and meals to allow High Gear Media to attend Audi Future Performance Day.]
_______________________________________