In the world of green cars, Nissan is best known for its Leaf electric car--which is the world's best-selling electric vehicle ever, with more than 100,000 delivered.
But like any global automaker, Nissan is pursuing a variety of powertrain and other technologies to boost the efficiency of all its vehicles.
At last month's Detroit Auto Show, Green Car Reports sat down with Carla Bailo  to discuss the full range of Nissan's green-car activities.
Nissan executive Carla Bailo, speaking at Detroit Regional Chamber of Commerce event [via Flickr]
Bailo was the senior vice president for research and development in the Americas, working for Nissan North America but up to date on the company's entire portfolio of global product development.
Following the Detroit show, Bailo retired from Nissan after 25 years with the company--and now terms herself "semi-retired" while she looks for one or more board positions.
Wide-ranging efforts
Nissan's activities outside battery-electric cars boil down to two different hybrid powertrains--one for front-wheel drive, one for rear-wheel drive--as well as diesels in Europe, flex-fuel vehicles in Brazil, and continuing research into hydrogen fuel-cell vehicles.
About the only technology Nissan isn't currently pursuing are plug-in hybrids.
This article summarizes a wide-ranging interview with a woman who had been deeply involved with the vehicles and technologies developed by Nissan all over the world--and what the company intends to offer U.S. buyers.
All of the above
"To reach the CAFE (Corporate Average Fuel Economy) goals," Bailo started out, "will require using diesel, hybrid, turbocharging and downsizing of conventional engines--all of the components have to improve."
Then there are weight reduction and improved aerodynamics for all vehicles, to reduce wind resistance and lower the energy required to push a vehicle through the air.
In other words, Nissan is pursuing all of the same suite of approaches that any global automaker is working on.
Xtronic CVT, 6th generation - for 2013 Nissan Altima
Improvements to gasoline vehicles
The bulk of the company's efficiency improvements today, Bailo said, come from more efficient gasoline engines and the transmissions paired to them.
Like most other carmakers, Nissan is moving to gasoline direct injection as a more precise way to deliver the right amount of fuel into the combustion chamber.
It will also use turbochargers to let it downsize engines, so a four-cylinder can produce the power that would previously have required a V-6.
Nissan is also arguably the world's strongest proponent of continuously variable transmissions (CVTs), using its Xtronic line across virtually all of its smaller vehicles and even up into more expensive cars like the Maxima large sport sedan.
The key to selling more electric cars, Bailo said, includes "more effective battery range"--and that was about all she said on that front. 
Hybrids
Nissan has two hybrid systems now in production. The first was a rear-wheel-drive system used with its 3.5-liter V-6 engine in the 2011 Infiniti M35h (now sold as the Q70 Hybrid), and more recently the 2014 Q50 Hybrid
MORE: 2014 Nissan Pathfinder Hybrid: Gas Mileage Test Disappointing
Then there's a smaller mild-hybrid system for front-wheel-drive vehicles, launched as an option on 2014 models of the Nissan Pathfinder and Infiniti QX60 three-row crossover utility vehicles. As product engineer, Bailo was responsible for development of the 2013 Pathfinder.
2014 Infiniti Q50 Hybrid Sport
While Green Car Reports achieved sub-par fuel economy in a recent test of that vehicle, Bailo maintained that the redesigned Pathfinder was the ideal vehicle in which to launch the new mild-hybrid system.
"The demographics are suitable, it's a family car, and it's used for a lot of stop-and-go duties" by soccer moms, she said.
The lower-speed, around-town uses are where the mild hybrid system gives its biggest payback, Bailo noted. And, the improvement in EPA ratings comes at a relatively low price premium of $3,000 over the comparable V-6 model.
That system will be offered on hybrid Rogue and Murano models as well, probably next year.
While the two systems use electric motors with different outputs--15 kilowatts (22 horsepower) on the Pathfinder and 50 kW (67 hp) on the M35h--there's "more synergy than you would expect" between the two, Bailo said.
The inverter and many of the other electronic components are shared, cutting costs and making volume production more practical for the future.
Diesels and biofuels
"Everyone's looking at diesels" for the U.S. market, she said, and Nissan is watching carefully to see how well diesels are received in mass-market vehicles.
2014 Nissan Pathfinder Hybrid
Bailo didn't name the Chevrolet Cruze Diesel specifically, but that vehicle competes directly against the Nissan Sentra in the compact sedan segment, so it may prove to be a test case in a popularly-priced vehicle.
"We have small diesels ready to go," courtesy of the alliance with Renault, she said, but noted that getting them to meet emissions standards remained expensive.
Nissan's luxury brand Infiniti will offer a V-6 diesel in Europe, courtesy of its platform and powertrain partnership with Mercedes-Benz.
The next Nissan Titan pickup will offer a diesel engine option, courtesy of U.S. maker Cummins, which will be its first diesel offering in the U.S. It also showed the Nissan Frontier Diesel Runner Concept at last week's Chicago Auto Show.
But Bailo noted that with more stringent aftertreatment rules imminent in Europe, the very smallest diesels may no longer be practical.
She said, "1.4 liters is iffy, though 1.6 liters is good" in balancing out money saved in fuel-efficiency improvements with the cost of the more complex aftertreatment required for those engines to comply with upcoming Euro 6 emission standards.
MORE: Could Congress Kill Ethanol Mandate Altogether In 2014?
Bailo also cited biofuels, in particular the company's products in Brazil, most of which can run on gasoline, ethanol, or any blend of the two.
That's a technology, of course, that depends on the availability of ethanol--an alternative fuel that has certainly seen its share of controversy in the U.S.
Toyota FCV hydrogen fuel cell vehicle prototype during cold-weather endurance testing in N America
Hydrogen Fuel Cells
In discussing the field of zero-emission vehicles, Bailo was careful to include fuel-cell vehicles powered by hydrogen after leading off with Nissan's battery-electric efforts.
Last year, Nissan joined together with Ford and Mercedes-Benz in a three-way alliance to develop fuel-cell propulsion technology.
Interestingly, the company's alliance partner Renault, the French carmaker that has its own line of battery-electric vehicles, is not part of the fuel-cell partnership--that's a Nissan-only venture.
Bailo argued that zero-emission vehicles in the largest categories, such as pickup trucks or large utility vehicles, would only be possible with fuel-cell electric technology.
Asked about the hurdles to putting those vehicles into mass production, as the Leaf already is, Bailo offered two: the economics of producing the fuel cells themselves, and the need for a presently non-existent hydrogen fueling infrastructure.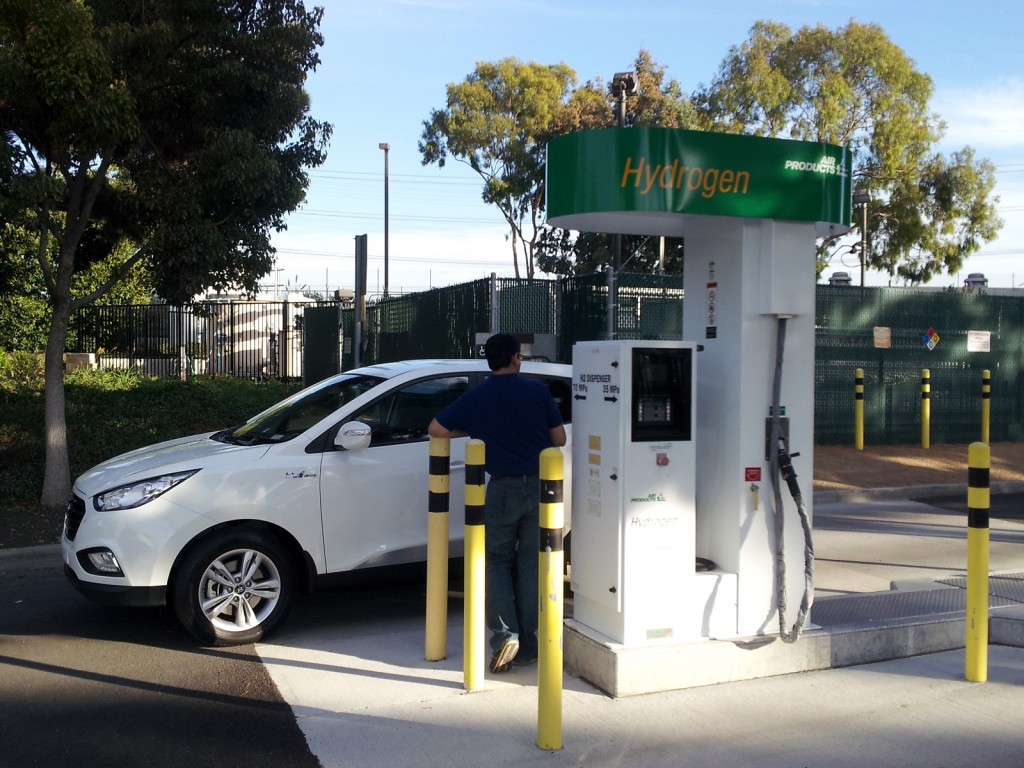 2015 Hyundai Tucson Fuel Cell at hydrogen fueling station, Fountain Valley, CA
And of those two, she said, the economics of making fuel cells profitably were "the big hurdle" today.
The partnership is spending a great deal of time working to reduce the volume of precious metals used in its fuel cells, she said.
Nissan has learned a lot about chemical reactions in general from the battery development to support its electric vehicle program, Bailo noted, which was information that could be applied to similar challenges in fuel cells as well.
Development work takes place in Vancouver, she said, with Nissan working primarily on the fuel-cell stack itself. But to get hydrogen fuel-cell vehicles into dealerships, "we need a breakthrough on cost," she said--and Bailo declined to provide a date, calling the idea of such a vehicle by 2017 "aggressive."
But no plug-in hybrids
She pointed to Germany, which is now installing a network of hydrogen fueling stations, as a test case for the technology.
"They're game to do it," she said, and all the partners will learn from that experience when Mercedes-Benz, Toyota, Honda, and others launch hydrogen vehicles in that country.
Finally, Bailo said, Nissan is not working today on plug-in hybrid vehicles, largely because they're only zero-emission part of the time.
"We don't preclude it someday," she added--but the company feels that the best way to get to vehicles with zero tailpipe emissions is to focus its development efforts on those that are powered entirely by batteries.
Do we believe that? We're not sure; the company showed a tiny range-extending engine for its ZEOD electric race car for Le Mans.
We'll put that one as a "maybe."
_______________________________________________