Nissan's all-electric Leaf hatchback has only been on sale in the U.S. for the past 15 months, but Nissan has already confirmed it will get some much-needed upgrades for the 2013 model. 
Speaking to The Detroit News yesterday, Mark Perry, director of product and advanced planning for Nissan Americas confirmed that the 2013 Leaf will get an improved heating system and an upgraded interior fitted as standard. 
Although the electric-powered air heater found in the 2011/12 Leaf is adequate enough to keep the interior warm in all but the coldest of temperatures, its use comes with a caveat: a drop in range of as much as 30 miles. 
As we've found in the past, sacrificing heat for range is hardly pleasurable. 
Neither Nissan nor Perry has detailed how the heating system in the 2013 Leaf will be different, but we do know it will improve winter performance.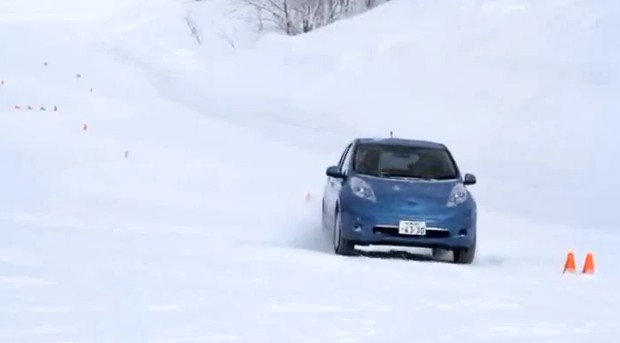 2212 Nissan Leaf Winter Test
"You may not see much change on the EPA rating, but in cold-weather conditions you may see 20 to 25 miles of improvements," Perry promised, although it is important to note Nissan hasn't mentioned a change in either battery pack capacity or chemistry.
The other major improvements -- aside from the 6.6 kilowatt charger that Perry promised last year -- are focused on the car's interior. 
When the Leaf launched, its white seats made from recycled plastic bottles may have been environmentally responsible, but not everyone liked them, Perry admitted. 
"We were like, 'Ah, let's do the clean, green recycled materials.'" Perry said. But as Nissan soon found out, customers wanted other options, especially those with children or pets. 
As a consequence, the 2013 Leaf will be offered with optional Leather seats, as well as a choice of light or dark interior trim.
2011 Nissan Leaf SL
At the moment, little else is known about the 2013 Leaf, except that it will be manufactured in the U.S. at Nissan's Smyrna plant in Tennessee. 
Some analysts have suggested that the domestic manufacture of the Leaf will also help Nissan keep its price down, but Nissan has yet to confirm official pricing.
If you're considering a Nissan Leaf, we're keen to know if the latest announcement will delay your purchase decision. 
Or perhaps you've been looking at other electric cars and now think the 2013 Leaf may meet your needs? 
Let us know in the Comments below. 
+++++++++++