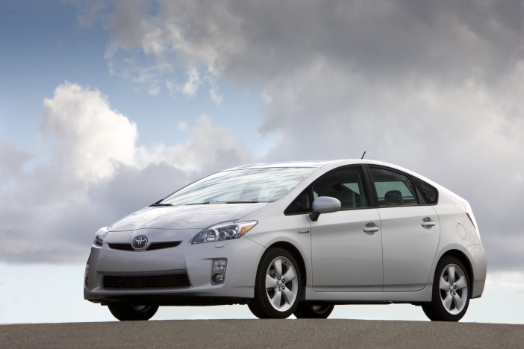 2010 Toyota Prius
Here we are again in a new month, so it's time to run down the five most popular posts for May on AllAboutPrius.com.
# 1: 30 Days of the 2010 Toyota Prius: Your Reference Guide. Just like last month, this one is by far our most popular content page. We intended it to be an easy way to find all the basics on the 2010 Toyota Prius, and it seems like it's working. Bottom Line: Start here!
# 5: 2010 Toyota Prius: Overview. Reflecting the fact that ads for the 2010 Prius are now airing, this one--our most popular post in March but only # 5 last month--jumps back up to grab the silver medal. Bottom Line: That said, we still think post # 1 post is probably the best place to start if you're looking for a way into our full "30 Days of the 2010 Toyota Prius" series. Over the weeks, we will cover pretty much every angle of the world's best-known hybrid car.
# 3: 30 Days of the 2010 Toyota Prius: Day 1, First Impressions and 70 MPG.  Coming up one notch in the rankings, it looks like users are eager to see what we thought on our first drive. And of course that "70 MPG" headline is a pretty big lure too! Bottom Line: Once again, we think Marty Padgett nails it here: The 2010 Prius is significantly improved over the prior car in dozens of small ways. Along with exceptional fuel economy, it benefits from a taller, more airy cabin and improved driving feel. It's also a more upscale effort in general.
# 4: 30 Days of the 2010 Toyota Prius: Day 4, Equipment Levels and Packages. This one dropped a notch but remains popular, which proves that the plethora of Prius permutations aren't as easy to parse as Toyota might like. Bottom Line: We did our very best to explain the four equipment levels and three option packages available on the 2010 Toyota Prius. We still don't know, however, what's contained in the fifth and lowest-cost equipment level.
# 5: 2009 Toyota Prius: How Does It Stack Up Against 2009 Volkswagen Jetta TDI? This one was a bit of a surprise, and a new entrant into our Top Five.  Bottom Line: The Prius and the Jetta TDI take two very different approaches--hybrid powertrain versus clean diesel engine--to achieve fuel economy ratings well over 35 miles per gallon. And we note that VW diesels seem to do better in the real world than their EPA mileage numbers would indicate. But they're fairly different cars; the Jetta's sportier and more fun to drive, but the Prius has more space, is arguably more versatile as a hatchback, and does more to encourage high-mileage driving.
2009 Volkswagen Jetta TDI