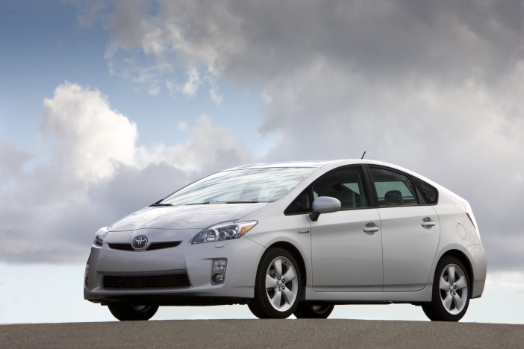 2010 Toyota Prius
The 2010 Toyota Prius has gradually been emerging into public view since January, when it was launched at the Detroit Auto Show.
Based on media previews and invitation-only Prius Connection events in Detroit, New York, and other venues, quite a lot of info is now available. One set of impressions comes from our colleague Marty Padgett (himself the owner of a 2004 Toyota Prius), who attended a press event last month in swanky Napa Valley, California.
Among Marty's first impressions: The 2010 Toyota Prius is capable of 70 miles per gallon if driven carefully. Its fuel economy is ranked at a combined 50 mpg (51 city / 48 highway), but in a competition among journalists, Marty and his codriver easily knocked out 69.5 mpg.
Other impressions: The 2010 Prius is significantly improved over the prior car in dozens of small ways. Along with exceptional fuel economy, it benefits from a taller, more airy cabin and improved driving feel. It's also a more upscale effort in general.
Not everything was wine and roses, though. Marty dinged the new car for a few features that cut down on utility, including the center stack between driver and front passenger that actually reduces knee room compared to the previous model.
He also notes that pricing for the 2010 Prius haven't been released yet. We suspect Toyota's marketing wizards are poring over their spreadsheets and grimly calculating how close they can get to the $20,400 price of the new 2010 Honda Insight.
In the end, Marty's Bottom Line on the 2010 Toyota Prius: It ups the ante in the hybrid world with 51-mpg city fuel economy and a finer style.
2010 Toyota Prius