One of the biggest news stories in the automotive industry has been a car that still isn't officially confirmed to exist.
It's "Project Titan," Apple's much-discussed project to allegedly develop an electric car.
Now, reports out of South Korea indicate that the most unusual feature of this rumored electric car—if it exists—could very well be its battery cells.
DON'T MISS: Maybe Apple and Google won't take over the car industry after all?
Apple recently signed an agreement with an unnamed South Korean battery company, according to local media outlet ETNews (via CNET).
That company is reportedly working on a new cylindrical lithium-ion battery cell with a hollow core.
This could create an advantage in cooling, as most of the heat generated by cylindrical cells tends to be concentrated toward the center, the ETNews report noted.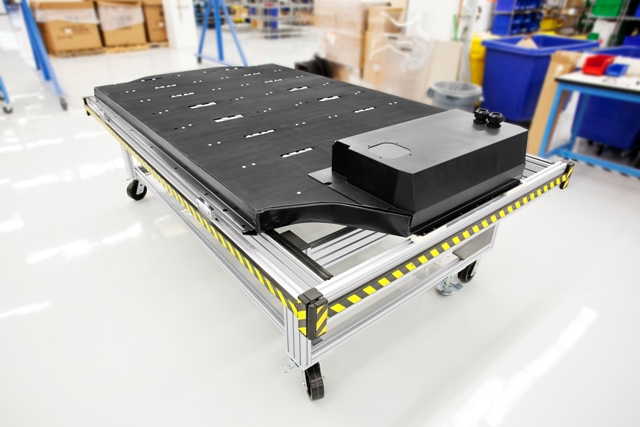 Tesla Motors - Model S lithium-ion battery pack
The report suggested that hollow-core cells with more efficient cooling could reduce the amount of such hardware needed in a battery pack.
A novel type of lithium-ion cell would likely be one tangible element distinguishing the rumored Apple Car from existing electric cars.
Many analysts assume the Apple Car will be radically different from the products of traditional carmakers, but those analyses seem to be based more on Apple's past record of innovation than any real information about the car.
MORE: Will Apple sell electric-car charging stations?
Apple still won't confirm the existence of Project Titan—hollow-core battery cells or otherwise.
Recent reports have indicated that whatever plans it did have for a production, Apple may be rethinking them.
Last month, it was reported that Apple had shuttered parts of its car program, and laid off dozens of employees.
Electric vehicle parking by Flickr user aaron_anderer, used under Creative Commons license
Apple is still thought to have a considerable number of employees working on the project, though, along with some autonomous prototype vehicles.
The company has also reportedly been in discussions with charging-network operators and charging-station manufacturers, and hired people with experience relevant to electric-car charging infrastructure.
Those moves hinted that Apple may also be investigating charging stations, either to complement a production or electric car, or possibly as a standalone product.
_______________________________________________