Most of the focus on new green cars--like the 2011 Nissan Leaf, the 2011 Chevrolet Volt, and a slew of new and existing hybrids--has been on how consumers will adapt to them.
But in fact, a portion of early years' production of any of those cars is likely to go into car fleets maintained by state and local government bodies, electric utilities, and other large users of passenger vehicles and even heavy trucks.
Public Charging Station for electric cars, courtesy Mitsubishi Motors
Advantage: central depots
Fleet sales are part of the overall auto market for all vehicles; carmakers earn less profit per sale, but keep their lines running through ups and downs in consumer buying patterns.
Governments and companies need cars too, and their fleets are particularly appropriate for some green and alternate-fuel vehicles.
Many fleets maintain large central depots, where the cars return each night, giving them a single site for installation of high-voltage recharging equipment (for electric cars) or fuel storage (for alternate fuels like E85 ethanol or the natural gas used in the 2010 Honda Civic GX).
Honda Civic GX
2009 Honda Civic GX Natural Gas Vehicle logo
Predictable mileage
Fleet vehicles also cover more predictable routines, meaning their mileage varies less than personally owned vehicles. So the 100-mile range of the all-electric 2011 Leaf, for instance, may never prove problematic for a municipal vehicle covering 40 to 50 miles a day.
Today's fleet managers are also being pressured by their corporate executives to cut both fuel expense and the carbon footprint of their vehicles, which is easier to do en masse when cars are retired at the calculated point when their maintenance costs start to rise.
And alt-fuel vehicles of any type provide excellent rolling billboards for companies and government bodies alike to advertise their commitment to greening their fleets.
Taking it slowly and cautiously
That includes heavy commercial vehicles, from garbage trucks to the utility bucket trucks used for power-pole work. Fleet managers are cautiously experimenting with one or two hybrid versions, and even all-electric trucks, before making long-term, high-dollar purchases.
And that rule applies to the very latest vehicles, too. While hybrids like the 50-mpg 2010 Toyota Prius are, by now, a known quantity for fleet managers and consumers alike, they will proceed cautiously will electric cars like the 2011 Leaf that require installation of high-voltage charging systems.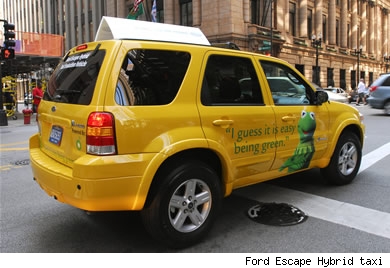 Ford Escape Hybrid Taxi
In the end, say auto analysts, fleet sales won't be the dominant part of the green-car market, but they play a noticeable role--not the least in publicizing the availability and practicality of such vehicles.
The decision is easiest when the company or municipal body makes the decision to green its own fleet. As New York City recently found out, writing rules to green fleets owned by others--in this case, the city's fleet of yellow cabs--may be deemed illegal.
[Automotive News (subscription required)]