The U.S. buys more hybrids than any place else in the world except Japan. We have a handful of clean diesels, with sales slowly increasing. But the "other alt-fuel" for automobiles--natural gas--is barely a blip on the U.S. market.
Nonetheless, Honda is plugging away (ahem) with its 2010 Honda Civic GX, the only natural-gas vehicle (NGV) now offered to U.S. car buyers. It announced today that Oklahoma would become the fourth regional market to offer the GX to retail purchasers.
2010 Honda Civic GX natural-gas vehicle
2009 Honda Civic GX Natural Gas Vehicle logo
2005 Honda Civic GX
Of 13 Honda dealers in the state, three are already selling the Civic GX to fleet buyers. Not all 13 will necessarily carry the natural-gas model; the car is an "option" that dealers can take up or not.
Refueling infrastructure exists
As Honda points out, the state offers a "generous state tax incentive" for purchase of a new Civic GX, on top of an existing $4,000 federal tax credit. And it described Oklahoma's GX fleet sales as "solid" for several years.
Moreover, Oklahoma's production of natural gas is second highest in the nation, so it has a strong existing network of stations selling CNG, with "robust" plans to expand it further in coming years.
"Honda seeks market opportunities for the Civic GX where strong natural gas refueling infrastructure exists," said Elmer Hardy, senior manager of alternative-fuel vehicle sales, "and we see its promise as a clean, sustainable, domestically-sourced alternative fuel."
CA, NY, then UT, now OK
Last summer, Honda had announced that Utah would be the third market--after adding California in 2006, and then New York--for the Civic GX. Honda said then that Utah led the nation in per-capita natural gas refueling infrastructure.
The 2010 Honda Civic GX is built in the same Indiana factory as gasoline-engined four-door Civics; its base price is $25,340. Presently, it's available to retail consumers at 43 California dealers, 19 in New York, and eight in Utah. It's available to fleet buyers in 33 states.
The Honda Civic GX has been deemed "America's Greenest Car" by the American Council for an Energy-Efficient Economy (ACEEE) every year since 2004. It is the cleanest vehicle with an internal combustion engine ever tested by the U.S. Environmental Protection Agency.
2010 Volkswagen Polo BiFuel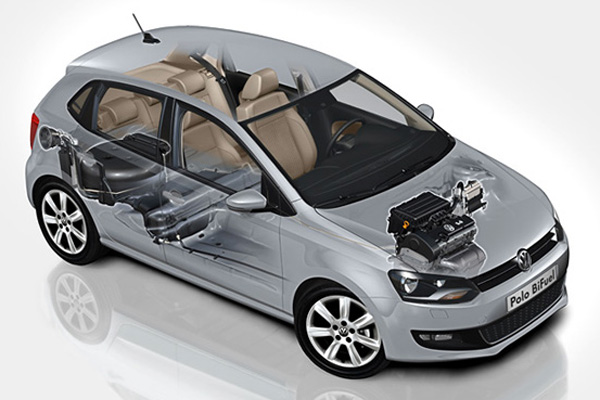 2010 Volkswagen Polo BiFuel - cutaway diagram
2010 Volkswagen Polo BiFuel - badge
More NGVs elsewhere
Still, the U.S. lags substantially behind many other nations in the availability of new natural gas models. A new Volkswagen subcompact model, for instance, offers drivers in Germany a full 800 miles of range between its gasoline and natural-gas tanks.
That model is the Polo BiFuel, whose 1.4-liter engine runs on either gasoline or natural gas (in this case, not compressed natural gas, or CNG, but liquified petroleum gas, or LPG). It has to be started up on gasoline, but can then be switched to LPG.
More than 5,700 fuel stations in Germany sell LPG, one reason that Ford now offers a flex-fuel Mondeo in Europe that can switch over to natural gas at the driver's command. Chevrolet is developing natural-gas versions of its Spark and Beat mini-cars as well.
Brazil, even Iran
In Brazil, Fiat has sold the Siena Tetrafuel for four years. That car can run on gasoline, ethanol, or any combination of the two, and it can be switched over to natural gas that is kept in separate tanks in the trunk.
Last year, Iran Khodro--that country's largest automaker--released a version of its Samand sedan, the turbocharged, 150-horsepower Soren ELX, that it calls the "world's most powerful CNG car."
Why Iran, where gasoline is 15 cents a gallon? Well, natural gas is cheap there too. Cheap enough, in fact, that Iran Khodro says it sold half a million CNG-powered cars within two years, roughly a quarter of its total production.
Meanwhile, in the U.S., we make do with a single Civic. But hey, at least Sooners can buy one now.
[Honda, Polo Driver, Spy n Sketch via Indian Autos Blog]