It's one of the most frequent questions asked about hybrids: What happens if I have to replace the high-voltage battery pack?
While Toyota warrants its Prius batteries for 8 years/100,000 miles (or 10 years/150,000 miles in some states), cars more than a decade old won't be covered--and may still have plenty of life left in them.
So what does it really cost to replace a hybrid battery pack?
Our reader Al Hodges, of El Cajon, California, was kind enough to tell us how it happened for him.
His experience is just one data point, but it may reassure those who fear that they'll have to pay $7,500 or even $10,000 to replace their hybrid battery.
"I purchased my Prius in September 2000, took delivery in January 2001, and have had great service, low mileage, and no major service," Hodges told us.
MORE: Ultimate Guide: Toyota Prius Battery Life, Cost & Warranty
"However, a few weeks ago, my dash lit up like a Christmas tree."
"I dug out the owner's manual," he related, "and all the idiot lights were giving me the same message: 'See your Toyota Dealer.'"
The verdict from his dealer: "You need a new high-voltage battery."
While hybrid battery packs are designed to last the life of the vehicle, a few may well need to be replaced before then. Hodges got twelve and a half years out of his, close to the average 15-year life of a car.
Before you ask, by the way: Toyota service departments have had a program in place for years to recycle nickel-metal-hydride battery packs at the end of their life.
Including new cables, labor, and taxes, the service manager told Hodges, the cost would be more than $4,400.
Hodges walked out in shock, and started researching alternatives.
"Mr. Q in San Diego had a program to replace first-generation Prius batteries for $2,500, using rebuilt packs, as a Do-It-Yourself package," he found.
But, Hodges said, "at 83 years old, I am not a D-I-Y guy any more."
His next step was simple: "I went back to Toyota, and begged the service manager on bended knee to sharpen his pencil."
Lo and behold, Hodges received a new quote. It still included everything required for the full replacement, but this time, the total was $2,931.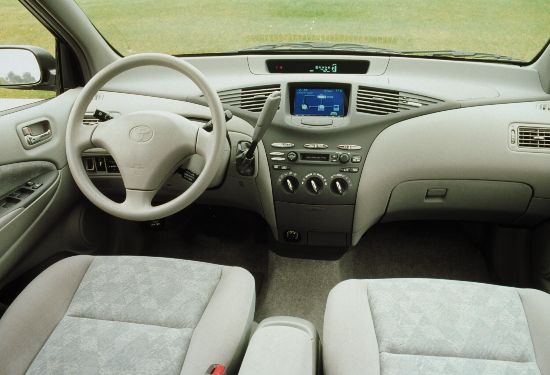 2001 Toyota Prius interior
Hodges suspects Toyota has about a 200-percent markup on its parts, so he was pleased to see an extra $1,400 remaining in his bank account compared to the first estimate.
What's the lesson? (And it's not confined to hybrid battery packs, either.) ASK!
"The worst they can do is say, 'no,'" Hodges said. "Dealers don't want to lose service work"--which is now one of their main sources of profit, along with selling used cars. (New cars are, on average, less profitable for dealers.)
Hodges also suggests that the price for battery replacements will come down over time, so that they may be cheaper in the future than they are today.
"Back in 2000, I asked the Toyota dealer about the price to replace the high-voltage battery," Hodges said. "The price in 2000 was $8,000."
The list price of the pack for a 2001-2003 Prius today is $2,299.
[UPDATE: Toyota's Wade Hoyt offered some further details, noting that the list price of the replacement pack is $3,649, but the cost to the owner is reduced by a $1,350 "core credit" for turning in the old pack. And, Hoyt added, service department labor time to replace a pack is listed at 1.6 to 1.7 hours.]
"The price came down."
+++++++++++