New-car buyers are already faced with a barrage of service contract offers, including extra-cost extended maintenance guarantees.
In the future, proposes Charles Gassenheimer, chairman and CEO of battery manufacturer Ener1, electric-vehicle battery leasing should be added to the options.
"We can come up with a creative lease finance model that more appropriately allocates [the cost of] battery use," he said.
Gassenheimer was one of several executives taking part in an Electric Drive Transportation Association media teleconference on batteries last week. Others included Andrew Chu, vice president of marketing and communications for battery manufacturer A123 Systems, and Mark Wagner, vice president of government relations at Johnson Controls.
Currently, the battery represents up to 45 percent of the cost of an electric vehicle. Getting that cost down will be crucial to widespread consumer acceptance of plug-in vehicles, according to virtually all reports.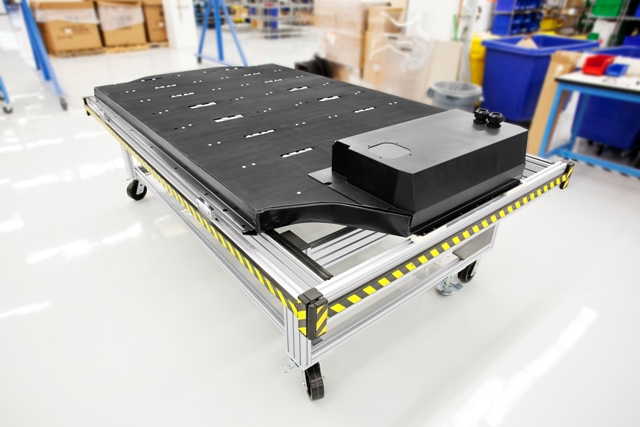 Tesla Motors - Model S lithium-ion battery pack
As Wagner pointed out, increased demand for electric vehicles—and thus for batteries—is critical to reducing costs. But if consumers aren't willing to pay the premium represented by the current price of an EV, and government subsidies don't make up the difference, it will be hard to grow demand.
Wagner also said consumers need to analyze the total cost of ownership of an electric car, including reduced fuel consumption and maintenance costs.  Increased use of electric cars in fleets will help gather that information, he said. Fleets can collect the data needed to calculate cost of ownership.
Historically, unlike fleet buyers, retail car buyers have overvalued initial purchase price and undervalued the total cost of ownership, including maintenance and fueling costs--whether grid power or gasoline.
Andrew Chu focused on the total usable energy in a battery pack. Automakers generally consider a battery at end of life when it has depleted by a set percentage. But batteries can also be used by utilities for energy storage, which don't face the same end-of-life issues, he pointed out.
If consumers are only going to use some percent of the battery, he asked, why should they pay for the whole thing?
Renault Fluence ZE production electric sedan
Gassenheimer suggested that consumers could buy a service agreement under which they pay $100 to $150 a month to use the battery. Every three to five years, the battery could be swapped out. It wouldn't go to that great battery farm in the sky, however. It could still be used for storage. 
Ener1 supplies lithium-ion battery packs  to Norwegian EV producer Think as well as for Volvo's C30 electric car. It also provides storage systems to the Russian National Power Grid. Expanding the use of lithium batteries as energy storage devices can also help drive the cost down by boosting demand.
Of course, battery swapping isn't a new idea. Shah Agassi, founder and CEO of Better Place in Palo Alto, CA, has been peddling the idea for several years. Better Place already has a pilot program in Israel. A123 supplies the swappable battery packs, which will be used in Renault Fluence ZE vehicles.
Thus far, only the Fluence ZE and the upcoming 2012 Tesla Model S are confirmed to offer the ability to swap out battery packs. Standardization of pack size, design, and mounting hardware will not come in the short term, if at all--meaning any swap station would have to stock a supply of packs for many different electric vehicles.
Getting more battery manufacturers behind the idea could give battery swapping more legs. Consumers will just need to get used to think about paying for their car very differently.
Do you think battery leasing and swapping will arrive for electric cars globally? Leave us your thoughts in the Comments below.